Interview: Ethan Hawke is Desperate for Success in 'Sinister'
The busy actor/writer/director had a ball making his first horror film
In the spooky new film "Sinister," directed by Scott Derrickson and written by Derrickson and former movie critic C. Robert Cargill, Ethan Hawke plays a true-crime novelist who is having a very difficult time matching the success of an earlier bestseller. With money and his wife's patience running short, Hawke moves his family to a house in a small town where an entire family was once murdered—except one little girl who disappeared. Hawke plans to write a novel about this gruesome story and starts researching the gory facts of the case. But…oops, he forgot to tell his wife that they're living in the actual house of the murder victims. As soon as they settle in, Hawke finds a box of home movies up in the attic that show a series of heinous murders, including the hanging deaths of the family he's writing about. How did the films get there? And why are his own two kids starting to act very strangely?

I talked to Ethan Hawke about the fun of playing a character who is so driven to recreate his earlier success.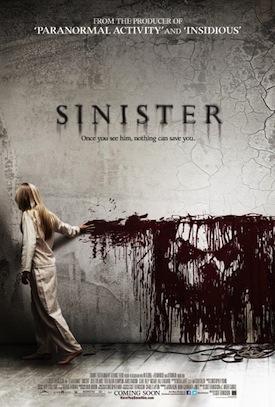 MSN Movies: What I really liked about "Sinister" is how your character's desperation and career frustrations are worked into the horror plot so seamlessly. Is that what attracted you to this role?
Ethan Hawke: Exactly! I think most of us would be lying if we said we couldn't relate to that premise in some way. Everybody has a different carrot—whether it's to make money or write a hit book or be a big shot in some way.
How come it took you so long to make a horror film?
For years people have been asking me to do genre films. My very first movie was "Explorers" with Joe Dante who directed "The Howling" and "Piranha." He had all these theories he used to teach me about genre movies and how brilliant they could be if they were done right. There's a kind of punk rock quality to a good genre film. At its essence, it has to a) be scary, or else it sucks, and b) have some kind of subversive message which this one certainly does when it comes to this guy and his ambition.
That's such an interesting part of the film. But, of course, your character rationalizes his quest and he doesn't think he's putting his family at risk—
Nobody ever thinks they're doing that! And while it's true that most of us don't let a giant demon into the house, the metaphor of ambition undermining our best self is one that most of us can identify with.  
Bing: Ethan Hawke | "Sinister"
The way that children are integrated into this story is very effective and creepy. I was almost afraid to go home and face my three-year-old! Will you let your own kids see the film?
My two older ones are 10 and 14 and they both said they wanted to see the movie. But then I showed them the trailer and they decided they're not old enough!
I often wonder if working on a scary film makes for a scary, heavy set or do you specifically work to make it lighter?
I think it's the opposite! There's something about the creepiness of it all that once it's the middle of the night and you've been filming for a couple weeks it all becomes insanely funny! I keep hearing about these people who make these bald-faced comedies and how their sets are incredibly depressing—ours was actually a lot of fun! Our director, Scott Derrickson, has a lot of theories about why people like to be told scary stories in the middle of the night. The truth is—if you do it right, it should be fun!
Horror aside, your character's chosen career path, writing about all these horrible true-life crimes, seems pretty difficult. Can you imagine doing something like that?
You know, I've done a couple of cop movies over the years, "Training Day" and "Brooklyn's Finest," and I did a bunch of ride-arounds with the police. Let's just say that when someone's job exposes them to the underbelly of society, it's not something I would like to do!
I also wonder about actors playing people who have all this negative stuff going on—does it affect you in your real life?
I'd like to say no, but it does! Right now I'm doing Chekhov's "Ivanov" on the stage which is one of the first pieces of literature that really explored depression, and let me tell you, my wife can't wait for it to be over!
Really? Even though you're not being too "method" about it?
No, believe me, I'm not Daniel Day-Lewis, I don't make people talk to me in character or anything, but playing a part like that affects your emotional and imaginative life. You can't live there 12 hours a day and expect it not to affect the other 12! I remember how burned out and tired I got making "Sinister." That was another wrap party my wife really enjoyed!
So at the end of something like that do you think, "Now I'll make a light comedy?"
It's a nice idea but careers don't usually work that way! But it doesn't bother me. When I was making "The Devil Knows You're Dead," I fell into a really black depression, but I love that film and I'd do it again in a second.
I loved that some of the real-life stuff happening in "Sinister," like the issues your son was having, are just as scary to watch as the supernatural stuff.
Those are the best kind of scares because they're just part of the real world of the characters. Our director had this wonderful theory about the movie "E.T." that it wasn't the little space alien that made the movie so believable, it was the relationship between the brothers and sisters. Remember that opening scene where everyone is sitting around eating pizza and making fun of each other? That's what makes it real. And what makes this film real is the scary stuff going on in their regular lives.  
I liked the family dynamic in this film with your wife and the kids. Is that something you guys worked on?
Sure. The woman who plays my wife in this movie, Juliet Rylance, is a terrific theater actress in New York, we've known each other for a long time. So whenever you can use a pre-existing relationship, it works great. Juliet and I goofed around a lot with the kids on the set to try to create that real feeling of a family on the screen.
Have you had a chance yet to watch the film with an audience?
Only at "South by Southwest" but I'm planning to go to the theater to see it. You know, the reason to make a comedy is to make people laugh, and the reason to make a movie like this is to scare them! It's built to be watched with a group of people—you want them shouting at the screen and jumping up and down!  
Did you watch a lot of horror movies as a kid?
Not really, I'm too squirrely! I watched a few but in truth most of the once I've seen are the great ones. There's some people who are real aficionados of the genre and they'll see everything, good or bad, they love them all, but for me I loved "The Shining," "Rosemary's Baby," "Carrie," "Alien," Hitchcock's movies—there's a lot of great scary films out there, but I wouldn't call myself an expert on the genre.
I admire the diversity of your career. Is that planned out very consciously or do you just sort of follow the path wherever it takes you?
I think because I started so young I never wanted my career to feel "corporate-owned." It's hard to do that in the world we live in, everybody knows it. The wonderful thing about theater is that there's so little money involved that it's very creatively free, and you get to work with the some of the best minds who've ever worked in my profession whether it's Tom Stoppard or Anton Chekhov or William Shakespeare. But the great thing about movies is that people see them! My love of theater sometimes makes me feel like a Luddite, I feel like some kind of weird throwback, but I also think acting for the stage is so much more challenging and makes me a better actor on film. And then sometimes I get sick of working with people so I want to write. I had a great experience this summer working on the sequel to "Before Sunrise." It's the third film and it was so fun to write because it's so different from anything else I've done.  
I talked to Julie Delpy in August and she was a little cagey about the film. When I mentioned that it didn't look like it was going to happen that summer she just said, "Well, summer isn't over yet!"
We had a long talk about it and we were all uncomfortable being that cagey, but we really wanted to make the movie without anyone reading the script so we decided not to say anything about it. We'd been working on the script for months and we actually started shooting the film the day after Julie talked to you! But she was under a strict gag order not to talk about it. People have such expectations about these movies so we just wanted to protect ourselves.
What's the process of writing those films with Julie and director Richard Linklater?
Initially, the three of us sit around and talk about what we want to see, what's happened to us that we want to write about. Then we talk about a scenario that would let us write about that. For the first film, Rick had this vision of a moment that he saw in a dream. He saw the two characters in this one location saying this one line and he built the script around that image.
It's got to be so fun and rewarding to come back to these two characters again and again after all this time.
It really is. You can almost compare it to Truffaut's Antoine Doinel series, there's almost nothing like it!
"Sinister" opens today nationwide.