Richard Linklater Wraps Julie Delpy and Ethan Hawke's 'Before Midnight'
The third film in the popular series was completed just in time for sales at this week's Toronto Film Festival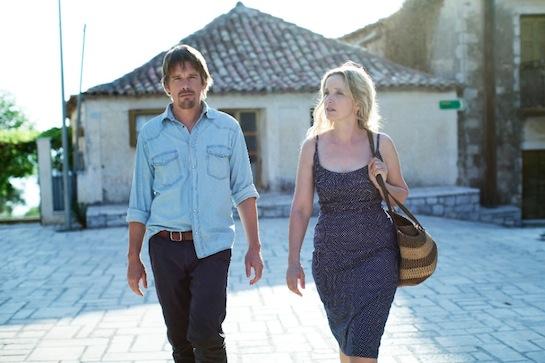 Who knew the Hollywood machine could move so fast? When I talked to Julie Delpy last month about her delightful film, "2 Days in New York," which she directed and starred in (with Chris Rock and cast members from the previous "2 Days in Paris"), I asked her about the widely rumored follow-up film to Richard Linklater's "Before Sunrise" (1995) and "Before Sunset" (2004),  featuring Delpy and Ethan Hawke as star-crossed lovers. "We're working on it," she said, cagily. "We're writing it now." Referring to reports I'd read that the film would be shot this summer, I remarked that this clearly wasn't going to happen. "Well, we'll see," Delpy replied, laughing, "the summer isn't over yet. I'm an optimist!" I'll say! Or perhaps the French actress was just holding it close to the vest for whatever reason.
To the surprise of many, Deadline reported today that the new film, "Before Midnight," wrapped yesterday in Messinia, Greece, where this version of Celine and Jesse's story takes place. Once again, the film was written by Linklater, Delpy, and Hawke, the trio that was nominated for a screenwriting Oscar for "Before Sunset."
Bing: Julie Delpy & Ethan Hawke
While there obviously won't be a trailer to view at the Toronto International Film Festival which starts tomorrow, the just-completed film will apparently be available for domestic sales there, represented again by Cinetic Media's John Sloss.
Linklater, Delpy, and Hawke issued a joint statement about their under-the-radar film: "It's great to be back together again, this time in Beautiful Greece, to revisit the lives of Celine and Jesse nine years after Jesse was about to miss his flight."