New trailer for '21 and Over' chronicles the day Jeff Chang becomes a man
Of course it's from the writers of 'The Hangover'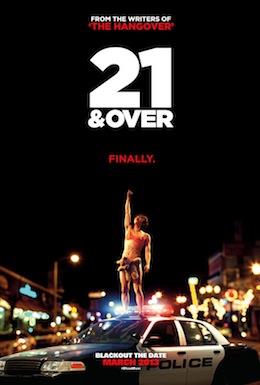 While Hollywood might have already found the answer to "we need something like 'The Hangover,' but for teens!" with last year's dismal (but money-making!) "Project X," the franchise-spawning mega-hit has now birthed its own successor, "21 and Over." Written and directed by Jon Lucas and Scott Moore (the writers of the first "Hangover" and the originators of the Wolf Pack), "21 and Over" skews a bit younger, but doesn't appear to relent when it comes to wild, drunken hijinks at the hands of three idiot boys. 
The film is set on the evening of Jeff Chang's (Justin Chon) twenty-first birthday, with the youngster intent on having the most insane, alcohol-fueled evening of his life, thanks to his apparent disdain for limits and laws, along with his best friends, played by Skylar Astin and Miles Teller. Jeff doesn't have a care in the world -- except, oops, yes, he does, because his twenty-first birthday just so happens to fall on the day before he has to take undergo the most important interview of his life. Medical school be damned! Jeff is going to have a great time! And, of course, that only lives Casey and Miller (Astin and Teller) to pick up the crazy, booze-drenched pieces. See? "The Hangover." For the younger set. Sounds fun, right?
But what seems most likely to make "21 and Over" worth the price of admission is its promising young cast. Stars Justin Chon, Miles Teller, and Skylar Astin have all turned in memorable supporting roles lately, with Chon amusing in the "Twilight" series, Teller proving his dramatic chops in the wrenching "Rabbit Hole"
and
his skills dancing in the just-okay "Footloose" remake, and Astin most recently charming as Anna Kendrick's romantic foil in the
already-charming-on-​its-own
"Pitch Perfect." If these three are Hollywood's newest leading men in the making, we're not complaining in the slightest.
Check out the latest trailer for "21 and Over," thanks to
Apple
, after the break.
"21 and Over" opens on March 1st.