Kevin James on Getting Knocked Out by Salma Hayek
Star of 'Here Comes the Boom' talks how he became a lean sparring machine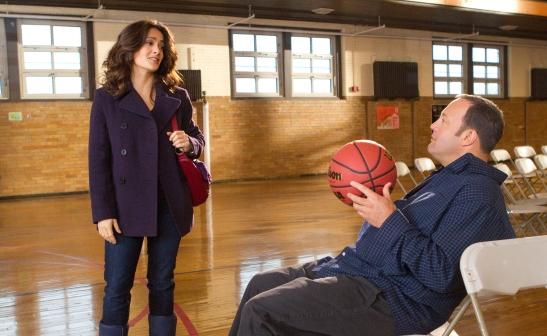 By Mary Margaret
How his wife liked his character's short shorts.

 "She liked it! She loves me either way though. It was something different. You're exposed and out there in more ways than one. I'm doing a different movie here. It's funny but it's emotional. So I'm exposing myself in a lot of ways."
Bing: More on Kevin James | More on Salma Hayek
On his 'fight scene' with Salma Hayek.

 "We've done other movies and sketch work together. I love her. Our families get along so well. She wanted to do the movie and the challenge for me was that no one was going to believe that we would get together! Everybody said we have to ugly her up but you can't! But she was the best person for it since she does do that improv. I wanted to show people how funny she is. She just comes at you. She attacked me in that scene. The part that's not in there is that when she kneed me down south, I was out for like 10 minutes! She's crazy! We had a lot of fun shooting it."
On taking some real hits.

 "There were many [real punches]. There are actually a couple in movie that are slow enough where you can see I was actually hit in the face. We wanted it to be sloppy. It didn't feel so good at the time but after we saw it, we felt great we got it! The ones that hurt the most was when we didn't capture it on film and we had to do it again. We wanted to show the reality of it. I got banged up but it was mostly my ego that was banged up when I would punch them and they wouldn't feel it while I'd be hurting for days."
14 months of fight training: dream or torture? 

 "It was both. It was a dream come true because I was fulfilling the dream of doing this and showing something different. It's not Paul Blart or goofy. It's funny but I wanted it to be real. We trained really hard, I changed my diet, I got professional trainers and fighters to work with me. It was grueling but it was worth it."
On the inspiration for the film.

 "It's a meld of two different stories. On the teaching side, I've had teachers who were instrumental in my life and I wanted to honor them in a way and how they can affect you well past your schooling days. Thirty years later, they still affect me now in terms of trying to be the best version of myself. On the flipside, a bad teacher can do the same thing if they bring you down. I was also a big fan of mixed martial arts. I was blown away by the UFC. I got to know some of the fighters over the years and was blown away: they're not just these gladiators in an octagon but real family men fighting for different inspirational needs. They were very nice people and just had very unique jobs."
On the importance of music in schools.

 "I never played a musical instrument growing up but I knew kids who did and took it very seriously. So we added that in the movie: how music affects these kids and can be used as a study aid. Music affects us all. We hear a song and it can take us back or music for these fighters. They use it for inspiration or intimidation."
On getting the UFC to sign off. 

 "They knew I was a true fan of the sport. Their biggest concern was that they don't give out stuff very easily. They want it done right. But I also wanted to make this movie to show a human side of it. Mothers can take age-appropriate kids and see the inspiration behind all of it. It was almost like putting aspirin in the apple sauce. The sport might not be for them but the fighting is a metaphor for the obstacles we have to go through in our life and shows what this teacher would do." 
Want more Movies? Be sure to like MSN Movies on Facebook and follow MSN Movies Twitter.

Parade.com: Kevin James Plays Good Cop
Parade.com: Salma Hayek's Surprising Comments on Her Body
"Here Comes the Boom" is out in theaters October 12.