Interview: Mark Duplass of 'Your Sister's Sister'
'I try to make my time about making movies, and I'm trying to be careful with what I choose.'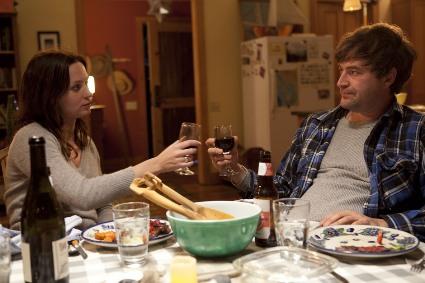 After a decade of low-budget films and working as a writer and director and actor -- sometimes in collaboration with his brother Jay and sometimes not -- Mark Duplass has finally become an overnight success. This summer alone, Duplass will appear -- or direct -films from "Your Sister's Sister" to "The Do-Deca-Pentathalon,​" from "People Like Us" to "Safety Not Guaranteed" and "Darling Companion." Perhaps best known for his work as one of the sports-loving antiheroes of FX's "The League," Duplass has also made or appeared in films like "Humpday," "Jeff, Who Lives at Home" and "Cyrus," working with directors and stars to make small, smart movies that nonetheless truly entertain. In director Lynn Shelton's "Your Sister's Sister," Duplass is a grieving man destroyed by the loss of his brother; friend Emily Blunt offers him the use of her family's Pacific Coast Island getaway to recuperate and recover. When he arrives, though, he finds that Blunt's sister Rosemarie DeWitt had already made plans to be there, and eventually bonds of family, friendship and love are inextricably and completely snarled.  We spoke with Duplass in L.A. about "Your Sister's Sister," his secret work on Kathryn Bigelow's upcoming raid-on-Osama drama "Zero Dark 30," and about what he's learned in the decade leading up to his five-film summer. ...
MSN Movies: Lynn Shelton: You've worked with her before, and you came to her for the idea for this.
Mark Duplass: This is correct. This was the germ of an idea that Jay and I had, and we have many germs that are in a little Microsoft Word document on our computer, most of which we'll never make, and this felt like one we would not make, what with the dead brother element, and our inability to find humor in such a story point. I thought this movie should be funny if we were going to make it, to a certain degree.
The idea of meeting a character, who, in going through the grieving process of his brother ... ?
That's right. I called in and said, "Hey I've got this movie idea. We could make it 'Humpday' style, cheap and fast. This guy has lost his brother, and his friend, who is a girl, with whom he has a somewhat ambiguous relationship, says, 'You know what, go to this island, my family's place, get some time.' He does so, and when he gets there he runs into her mother," and she said, "Great, but can we make it a sister instead of a mother?" I said, "Sure," and she was like 'Good, because I have two great actors in mind.'At that point we built a movie with me and Lynn and Emily and Rachel Weisz.
When Ms. Shelton says, "I have some actresses in mind for it," and she says, "Oh, by the way, those actresses are Rachel Weisz, and also Emily Blunt, who is a cosmetic spokesperson and plastered all over the tabloids." Did you know she had those two actresses in mind?
I knew. We both knew Rachel Weisz, who ended up dropping out, and was replaced by Rosemarie DeWitt later on. We both knew her because she was a fan of 'Humpday.' Emily was not someone we knew, but no one ever says no to Lynn Shelton and you'll discover this with the next ten years, next fifteen years. So I sent her in to the Emily Blunt camp with her persuasive ways and it worked out great. We slowly built this movie together and then Rachel had a scheduling conflict, and we almost lost the movie. I think Lynn was the first one who said, "What about Rosemarie DeWitt?" She said, "Oh, I ran into her at an airport one time, and she said she loved 'Humpday,'" so we called her up, and she's like, "I'm shooting a television show right now. I'm technically unavailable ... but yes, I will do it."
Because nobody says no to Lynn Shelton.
Because nobody says no to Lynn Shelton.
So much of "Humpday" either takes place in that apartment or the hotel room. When you're standing on the deck of a ship taking a ferry across the water, did you go, "Okay, we're opening this up a little bit."
Yes, and I think that, not to be reductive, but the concept of "'Humpday' plus one" is what we were trying to do here. Take a movie that still has just a few characters in it, that's still basically set in a couple of places, but maybe we could expand it with the cast and expand it with some physical beauty this time, maybe some score even. I think that it was this sort of modest step forward instead of launching Lynn into a fifteen million dollar movie right away.
But it was also a ridiculously short shoot, and you were staying on the island?
It was a twelve-day shoot, but "Humpday" was a nine-day shoot, so we increased it thirty-three percent.
A lot of that stuff is driven by the expediency of "How much budget do we have? When do we have access to a place," but you're used to it. Do you find when you have too much time, too much room, you start going wiggy as an actor?
I haven't gotten there yet. I think its because I haven't been the lead of a movie that shot for six months, but I will say this, it sounds crazy to shoot a movie over twelve days, but if you look at the form of " Your Sister's Sister" its less than twenty scenes. It's like a big play to a certain degree. We actually had plenty of time to shoot those scenes, and it didn't feel rushed at all. I've been on movies that shot over six weeks that felt more rushed. I think the set of "Darling Companion" felt rushed and we had 30 days. It all depends on how the movie is structured.
Is that one of the reasons why you don't look at the larger money things I'm sure you get sent, because you're worried about the ratio of standing around getting makeup put on and getting clothing fitted to actually acting might be too low?
I don't worry about that specifically. I mean, I do worry about it, but that's not the reason I don't do those projects. I'm getting a lot of questions these days about how do you make so much stuff, because I'm seeing three or four movies come out this summer. I think what I'm starting to discover in talking about it is I'm ruthlessly efficient and guarded with my time. That's to say that I don't read a bunch of scripts that people send to me to direct or to act in. I don't take general meetings all over town that waste a s**t-ton of time, and as much as I would love to be able to travel to every film festival or to speak at every college who invites us, I don't do that. I try to make my time about making movies. If I'm not working specifically towards making a movie, then I'm not doing it, really. So when Kathryn Bigelow calls me and says, " I have a small role in this movie, do you want to do it?" "Yes." When Noah Baumbach calls or Lawrence Kasdan, absolutely, that's always going to be a no-brainer. I'm trying to be careful with what I choose.
You did briefly shoot something for "Zero Dark 30" with Ms. Bigelow.
Yes.
Are you playing the tax accountant who holds a pencil for the real Special Forces guys?
I really wish we could talk about it. I have nondisclosure agreement signed and dated inside of their folders.
Does that nondisclosure agreement prohibit you from making fun of your own involvement in the film?
Oh God, I wish I could. I can say this: Ms. Bigelow has an appreciation for naturalism in her performances that I saw in the "Hurt Locker," and she does it in these big, political, thrilling films. I think that you can expect some of that from this film, and I think that's what attracted her to me in this role, was seeing that we actually do have very similar performance styles in vastly different films.
Right, you like to do nice long naturalistic acting where the thing that goes off at the end of the scene is --
... Questioning someone's feelings. Yes.
Working with Ms. DeWitt and Ms. Blunt, they're both classically trained movie-star actors, who might not be used to how you roll on a micro-budget level. Did they adapt very easily?
They adapted incredibly swiftly, and I want to reiterate that I'm not just saying this because this is a press question. They were ridiculously comfortable ridiculously quickly. I can't say specifically why that is, except for that they'd seen "Humpday," they appreciated the style; they understood intellectually what they were getting in to. I think they were craving some exploration, based off the projects they were coming off of. They were looking to get their hands dirty. I also think that we'd spent a good amount of time kind of talking about these characters, even with Rose, who only had three days to prepare. We built a big back-story. Maybe it's that this improvisational skill set is not that difficult in the end. Maybe its that you need to be a good actors, you need to be willing to take a chance and fall flat on your face, which we did many times, and you need to be excited about this exploratory process. If I have those three things, we haven't had any failures yet.
You're having essentially a great summer. You've got this opening. You've got "Safety Not Guaranteed" opening. You've got "The Do-Deca-Pentathlon."​ You've got a part in "People like Us." We were joking earlier, but you worked twelve years solid to become entirely ubiquitous overnight. It feels good? Has it moved you up the food chain a little bit?
I think it has moved me up the food chain a little bit. As an actor I notice now that I can greenlight a certain budget of movie. I know that certain people call me now that didn't used to call me before. That's exciting, because that opens up a certain amount of opportunities and I'd be lying if I didn't say that that was flattering to a certain degree. I like having that opportunity. That being said at the end of the day, and I've learned this the hard way, as we all have to a certain degree in the film world is that it really doesn't f**king matter what the budget of the film is anymore. When we made "Safety Not Guaranteed" it was a tiny budget movie with me and Jake Johnson, who was not on a TV show called "The New Girl" and Aubrey Plaza, who was on a TV show called "Parks and Recreation" that was probably going to get canceled. Now that movie has turned into somewhat of a breakout movie hit this summer. Who the hell knew? This fantastic looking movie starring Jane Fonda and Catherine Keener came out last weekend and nobody went to see it. Nobody knows anything anymore. I just kind of pick the projects I like.
Do you feel like because the space for grownup movies is getting smaller, it's getting more competitive?
I think it might be getting more competitive, but I have to say that I know how to make movies quickly and cheaply, and I think completely, and I feel very confident in my ability to do that. If you're going to tell me that there's like one piece of meat and there's a hundred wolves in the den, I'm like, "I think I can get it. I feel good about it. This is my space." The truth is, because a lot of these movies are my own financing now, I get to take writing jobs, and I get to siphon money off of my TV gigs, and go and pay for all these movies on my own, and nobody can stop me then. I always loved John Sayles and what he was able to do as a Hollywood screenwriter, who then went off and made his weird movies. That appeals to my underdog nature. I think that there are going to be times in my career where Hollywood welcomes me and says, "Here's some money to direct 'Jeff Who Lives at Home'" and I'll say, "Great," and I think there will be times where they say "F**k off, because that movie you made last year didn't make any money, kid," and I'll say, "Great. I'll go make one on my own." I can say that right know, because I kind of have everything right now. Talk to me in a few years, but I think I'm okay with it.
What was the last thing you saw in the theater and really loved and why?
Duplass: That's a tough one, because I am a new dad. "Rango." That was a while ago. I love that godd**n movie.
("Your Sister's Sister" is in limited release this Fri.)