Trailer: Orlando Bloom Fails His Profession in 'The Good Doctor'
That haircut alone is criminal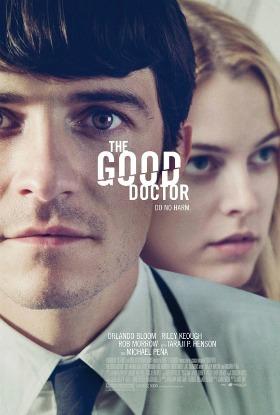 Yow! It's not every day that Orlando Bloom takes to the screen to play a character so smarmy, so creepy, so gross, that it's almost impossible to recognize the actor. But that's just the case with "The Good Doctor," in which Bloom plays Dr. Martin Blake, a gifted physician that just doesn't seem to fit in anywhere. He's ambitious, but that doesn't mean he's not socially awkward, weird, and a bit of an outcast. That heinous haircut isn't helping matters.
But when young Diane (Riley Keough), a teen sick with a kidney infection, comes under his care, Dr. Blake changes. Diane needs him. Diane accepts him. Diane loves him? Determined to keep her under his thumb, Dr. Blake ensures that Diane isn't getting any better, switching around meds and withholding drugs and even crafting fake pills (which leads to another massive complication in his life), keeping her sick and right where he wants her most - still in his hospital. It's a massively unsettling premise, and from the film's first trailer, it looks like Bloom pulls off his horrible role with aplomb. Creepy, crawly aplomb.
The film also stars Rob Morrow, Taraji P. Henson, J.K. Simmons, Michael Peña, Rob Morrow, and Troy Garity.
"The Good Doctor" will be available on iTunes on July 27, with a theatrical release following on August 31. Check out the film's trailer, thanks to
Apple
(via
/Film
), after the break. Wash your hands after.