Hot Tips and Top Picks: DVDs, Blu-rays and Digital Debuts for Weeks of September 25
Videodrone's take on the biggest, best, coolest and culty-ist releases of the week
New Releases: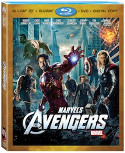 "The Avengers" (Disney), the supersized superhero event of the summer, is the perfect marriage of subject and sensibility. Joss Whedon writes and directs the sprawling, splashy spectacle and its much-much-much-large​​​r-than-life heroes makes for a genuine comic book epic for the big screen. Blu-ray, Blu-ray 3D, DVD, On Demand and digital download. Videodrone's review is here.
"Damsels in Distress" (Sony), the first film from indie auteur Whit Stillman in 14 years, is a dry, witty comedy starring Greta Gerwig as a college girl with very definite ideas on how to transform her college. Blu-ray, DVD, On Demand and at Redbox.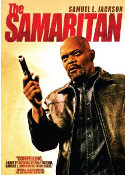 Adrien Brody stars in "Detachment" (Tribeca) as a substitute school teacher who inadvertently becomes a role model to students in an apathetic school. DVD only.
"The Samaritan" (MPI) is a low-key crime thriller starring Samuel L. Jackson is an ex-con trying to break from his past. Blu-ray and DVD. "The Tall Man" (Image) is a horror film starring Jessica Biel as a nurse searching for a child snatcher. Blu-ray and DVD, available at Redbox.
"Delicacy" (Cohen Media Group), a romantic drama from France starring Audrey Tatou, and the Danish comedy "Klown" (Image) are among the foreign imports arriving on disc this week (both are on Blu-ray and DVD), and the documentaries this week include the arts portrait "Gerhard Richter Painting" (Kino) and "Pink Ribbons, Inc." (First Run), which investigate the corporate influence of the activist organization.
Browse the complete New Release Rack here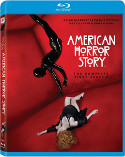 TV on Disc:
"American Horror Story" (Fox) is a rarity: an interesting, creepy, at times gruesome horror story told over the course of a cable TV season. What starts as a haunted house story with a fractured family tormented by trapped spirits develops into something much more interesting and surprisingly compelling. It arrives days after Jessica Lange won an Emmy for her performance, and three weeks before the next incarnation launches on FX: "American Horror Story: Asylum." 12 episodes on Blu-ray and DVD, plus commentary and featurettes. Videodrone's review is here.
"Portlandia: Season Two" (MVD) features all ten episodes from the sophomore season of the offbeat skit comedy from Carrie Brownstein and Fred Armien. IFC's breakout comedy hit arrives in environmentally responsible paperboard cases. Two discs on Blu-ray and DVD, with supplements. Reviewed in Videodrone here. And here's another comedy duo show arriving on disc this week: "Key & Peele: Season 1" (Paramount), the FX skit comedy show. Blu-ray and DVD.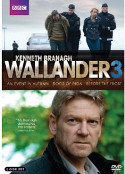 "Wallander: Series 3" (BBC) presents three more feature-length BBC mysteries starring Kenneth Branagh as the most depressed detective on television and "The Crimson Petal and the White" (Acorn) is a BBC miniseries staring Romola Garai as a prostitute trying to get out the brothel life in Victorian England. Both DVD only.
"The Carol Burnett Show: Carol's Favorites" (Time Life) presents the wide release of the six-disc set (previously available as a web exclusive) featuring 16 complete, uncut episodes of the landmark variety show.
And the 2011 seasons keep on rolling out: "Desperate Housewives: The Complete Eighth and Final Season" (ABC) of the nighttime soap opera with attitude, "CSI: The Twelfth Season" (Paramount), Ted Danson's debut at the head of the team, "CSI: Miami – The Final Season" (Paramount), "CSI:NY – The Eighth Season" (Paramount), "Gossip Girl: The Complete Fifth Season" (Warner), and the animated "Family Guy: Volume Ten" (Fox). All DVD only.
Flip through the TV on Disc Channel Guide here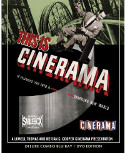 Cool and Classic:
"This Is Cinerama" (Flicker Alley) is less a movie than a glorified travelogue – emphasis on the glory. It launched Cinerama, essentially the first high definition theater format (before IMAX), with roar, even if the format didn't lend itself to conventional moviemaking. It debuts in a deluxe Blu-ray+DVD Combo Pack (in the Smilebox format to simulate the big screen wraparound experience) along with a companion release, the Cinerama Cinemiracle production "Windjammer" (Flicker Alley). Videodrone's review is here.
"Batman: The Dark Night Returns, Part 1" (Warner), the latest DC Universe animated original movie, tackles Frank Miller's Batman graphic novel, a comic book landmark, and does a pretty good job considering the grim nature and graphic edge of the original. Peter Weller voices old man Bat, who comes out of retirement at seventy. Blu-ray and DVD. Reviewed on Videodrone here.
"The Game" (Criterion), David Fincher's 1997 follow-up to "Seven," puts Michael Douglas through a reality game that takes an ugly turn, and "Eating Raoul" (Criterion) is Paul Bartel's black comedy about a couple who murder their way to building their dream restaurant. Previously available on DVD, they make their respective Criterion debuts on Blu-ray and DVD special editions.
Also check out the Videodrone B-Sides for September, which includes the Australian shark attack thriller "Bait 3D," and the MOD Movies round-up, spotlighting the early B-movie crime dramas of Budd Boetticher.

All of the Cool and Classic here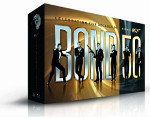 Blu-ray Debuts:
"Bond 50" (Fox) – Five decades, six James Bonds, and 22 films in this deluxe box set: the complete official James Bond series to date, from "Dr. No" (1962) to "Quantum of Solace" (2009). The box set includes the Blu-ray debuts of nine classic Bond films and over 120 hours of bonus features! Also available in a DVD edition.Videodrone's review is here.
"Lone Wolf and Cub: Complete Six Film Blu-ray Collection" (AnimEigo) presents the HD debut of the legendary samurai series starring Tomisaburo Wakayama as rogue samurai who carts his infant son from town to town in a wooden cart spring loaded with a veritable 18th century arsenal. In Japanese with English subtitles, two discs. Reviewed on Videodrone here.
And as we count down to Halloween, the horror titles start rolling out. Here are some on the more offbeat side: the creepy crawly family horror "Arachnophobia" (Hollywood), the goofy "Killer Klowns From Outer Space" (MGM), the weird "The Texas Chainsaw Massacre 2" (MGM), and the genuinely creepy "Jeepers Creepers" (MGM).
Peruse all the new Blu-rays here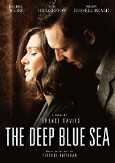 New on Netflix Instant:
"The Deep Blue Sea" (2011), adapted from Terence Rattigan's play by Terence Davies, is a ravishing and devastating romantic drama with Rachel Weisz and Tom Hiddleston.
"Machine Gun Preacher" (2011), based on a true story of Sam Childers, stars Gerard Butler as an ex-con turned missionary and aid worker in Sudan, and "The FP" (2011) is a parody of gang war movies played out in competitive dance-fight video games.
On the heels of their respective disc releases comes "Detachment" with Adrian Brody, "The Salt of Life" from Italy, and "Oslo, August 31st" from Norway.
"A Room With a View" (1986), James Ivory's adaptation of E.M. Forster's novel, as is seductive as it is elegant. Call it a chick flick with credentials. And from Australia comes "My Brilliant Career" (1979) with Judy Davis and"Breaker Morant" (1980) with Edward Woodward and Bryan Brown.
And leading the instant TV offerings is "Sherlock: Season 2" (2012), the BBC revival of the classic detective with Benedict Cumberbatch and Martin Freeman.
Browse more Instant offerings here
New On Demand
"The Avengers," the supersized superhero extravaganza with Iron Man, Captain America, Thor, and The Hulk (plus Black Widow and Hawkeye), is available in 3D (in select systems) as well as standard. Plus Whit Stillman's "Damsels in Distress" with Greta Gerwig and Adam Brody.
Debuting On Demand before theaters is "Jack and Diane" with Juno Temple and Riley Keough.
Available from Redbox this week:
Available day and date with video stores is "Damsels in Distress" (Sony) with Greta Gerwig and Adam Brody, the horror film "The Tall Man" (Image) with Jessica Biel, and the animated feature "Resident Evil: Damnation" (Sony).
Also arriving in Redbox kiosks this week: "Battleship" (Universal), the big screen version of the Hasbro board game (review here), and "Life Happens" (Universal), a comedy with Krysten Ritter, Kate Bosworth, and Rachel Bilson (more here).