Interview: Writer/Director David Ayer of 'End of Watch,' Pt. 1
'I didn't offer to taze my actors... that was the LAPD...'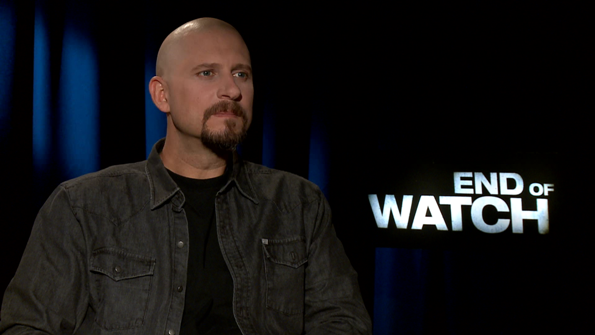 With his shorn scalp and broad shoulders, David Ayer looks like one of the cops he's chronicled in dramas like "Training Day," "Street Kings," and his new "End of Watch." He's also got an easy laugh, and was more than willing to take questions and talk about some of the criticism aimed at his film. "Watch" stars Jake Gyllenhaal and Michael Pena as LAPD partners -- more than rookies, less than detectives -- and follows them through their day-to-day work and their lives.  We spoke with Ayer in Toronto about his direction, the LAPD, his actors getting tazed, crime as sociology, how "End of Watch" is different from his previous films and more; part two of this interview will run tomorrow.

MSN Movies: So much of this film is in a 'found footage' style -- dashboard cameras, cell phone cameras, video cameras -- what compelled the decision to use that non-traditional shooting style?
David Ayer: I got buddies who are cops... and they bring video cameras to work. Sometimes they wear 'em. And they put together these 'Highlight Reels,' of, like, the pursuit and the crash, or contact with the public while they're wearing a camera ... and there's just some amazing scenes that I was seeing. And I thought, 'Man, this would be fantastic to stage as a film, and get on-screen.' And so, the idea of the script was to really showcase that king of thing, and that was going to be the bulk of the movie. And somewhere along the way I decided not to limit myself, and take tools off the table and tie one arm behind my back. There's 'rules' in film making ... I kinda threw the rulebook away and did my own thing.
At the same time, when you have that shot up from the floor of the car, does that, you find, help pull audiences into the immediacy of it?
Absolutely. It's like when you watch YouTube; you see these videos with broken compositions, and the action might even be off-screen, weird angles ...
... and yet you're riveted.
BING: 'Found Footage' l David Ayer
You're riveted, because your brain tells you it's real, and that's what I wanted to do, that little magic trick on the audience, where the coverage tells people they're watching something real .. and then when they're fully engaged and sucked into the world  ... it didn't matter. I could go to more traditional photography to tell the emotional story of the characters.
Mr. Pena said that you rehearsed for five months and shot for 22 days -- a reversal of the usual methodology ...
... Exactly ...
... that had to be important to you.
It was incredibly important to us, and that's why we were able to shoot so fast -- because these guys were incredible -- they did so much work together, they bonded. The movie's about their relationship; it's like you forget they're cops. And no matter what ... this movie is not what people are expecting. It's so much more.
Ms. Kendrick and Ms. Martinez were saying they were the only cast members who were not tazed during preparation.
They weren't tazed... how'd they get out of that?
I think by playing LAPD girlfriends and wives. I'm wondering a) Do you want to go back and taze them, because as director, you can still do that ...
(Laughs)
... And b) I've never been tazed, but I have this general idea it's unpleasant.
(Laughs)
At what point does making your actors do research just turn into sadism on your part?
I didn't offer to taze them; that was the LAPD.
So the LAPD offered to taze them ...
The LAPD tazed them; I didn't taze them; I didn't put that on the table. So that wasn't me.
(Laughs) That's got to be horrible for an actor, right? Because, all the LAPD (might say) is "Hey, 'Brokeback' -- wanna take a tazing, pretty boy?" Is that pretty much how it worked?
You know, I don't think they said that; they were pretty respectful. And (Gyllenhaal and Pena) got to drive cop cars and crash 'em, so that was pretty fun, too.
"Shoot guns..."
Shoot guns...
"...and drive cop cars, but the bad news is, you will have to volunteer to be tazed ..."? Was that the quid pro quo?
Exactly, exactly; there's a grey lining to every cloud. (Laughs)
So is there a hypothetical eight-hour-long cut of the film that is just Mr. Gyllenhaal and Mr. Pena giving each other s%&t in a patrol car?
David Ayer: Umm…
Maybe not eight?
No, no, 'cause it's actually pretty on script so maybe ... four?
And this is another question: How in this day and age do you make what is a straight police procedural, something people haven't seen before, with that…
It's not a police procedural. That's how you do it, you know? 'Cause a police procedural is like ... there's a bad guy who commits a crime and then they follow the clues and arrest him and save the world. In this there's a lot of bad guys committing a lot of crimes and they do arrest a few people, it may or may not be linked to some of that and they certainly don't save the world.
But in terms of seeing the inner workings of a department from its minutia to its paperwork -- that was what was great about the Ed McBain ("87th Precinct") novels, he would replicate fake police forms in those novels.
Right.
You got a sense of that. In terms of that glimpse of how police work.
Yeah, well I mean the way to do (a police procedural) fresh is it's not; at the end of the day, it's about a friendship. It's a story, it's a study of friendship, and it's about two best friends who happen to have badges and sort of... by stripping out the normal cops and robbers conflict that typically drives those kinds of movies it's really more of a character study, more of that '70s movie space where all problems aren't solved and all questions aren't answered, and the most riveting moments are simply two guys wrestling with questions of marriage and fatherhood and friendship.
It really is interesting -- you set Mr. Gyllenhaal (playing Brian Taylor) up immediately as this hard-charging self-improving keener…
Yeah.
…and Mr. Pena (as Mike Zavala) is, in his own words, a little stoner who used to work at his uncle's muffler shop and thought this was a good way to make a living. Not that he's less dedicated…
Yeah.
…but it expresses itself in different ways. Clearly you have an affinity for and knowledge of the LAPD. You find that kind of spectrum. You find people who are…
I mean it's, I want to check to number but I think there's 8,000 sworn personnel in the LAPD, and they come from incredibly diverse backgrounds. Some of them come from the very neighborhoods they police, some of them come from other agencies, some of them come from outside of Los Angeles, you got male, female, African-American, Hispanic, white, Asian, straight, gay. So it's, the department is a reflection of the society it polices. And yeah, cops are more like Mike Zavala and have more of that history and cops are like Brian Taylor and Marine Corps. Veterans are very squared away.
Yeah, the wide or thin blue line is not a monobloc.
Thin blue line, very thin blue line. But the thing about this is that no matter what gender or racial makeup of the individual, they're all blue, and that color transcends all others.
What do they say about a neighborhood where it's easier to get an AK-47 than a job? Like, does that not suggest we f$&ked up somewhere?
(Laughs) I mean, well maybe; if you look at the street gangs it's almost like a union type organization where you have tradesmen on a premises and journeymen and you can move up through the ranks and you can go from making minimum wage to making a decent living at the top of the hierarchy, you know?
But I mean…
You're right. It's bad. It's not good. It's sad, it's tragic, and we have these Mexican drug trafficking organizations that are metastasizing within our inner cities daily and law enforcement officers who are ill-equipped to deal with them.
But here's the thing. Obviously you're not putting forward and agenda of some kind. You are not what I would call partisan. You're not pushing any kind of political ideology or anything, but crime does function as sociology, even accidentally.
Right.
Crime fiction functions as sociology even accidentally, 'cause it's about what happens when we break the rules.
Yeah ... But I try and base it upon what I've seen, what I know, what I've studied, I'll read indictments, I'll talk to bad guys, I'll talk to good guys and get a sense of the true ecology and behavior and then represent that in my movies, and it may not necessarily be the party line of various organizations whether it's the police or the political level but, you, know I'm a stickler for the truth in that regards. I'm not going to sit back and judge. Yeah, it's bad to sell dope and kill people. I'm not going to encourage my kids to do it.
(Laughs) Right. You're thinking law school, then?
(Laughs)
For your kids, I mean. But it's interesting, I mean your earlier films have these kinds of swaggering almost. I mean "Training Day," I don't think it's a coincidence it came on the heels of Mr. Washington playing Richard III.
Yeah.
In some of your other films you have the whole Ellroy-esque swaggering bear of a cop.
Yeah, exactly.
These guys aren't that.
They aren't that. Well, it's LAPD 2.0. You know in the sort of ... the days of the "hard-charging badass white boy…'
Waumbagh...
The Wambaugh-esque, Ellroy-esque kind of world.
Yeah.
It's not that department anymore. And like I said, it's a department that reflects the the diversity of the very neighborhoods it polices. And that has, in the philosophy, has changed, too, where it's really going to a more community-policing based style and a much more statistically-driven​ "focus of resources where they're needed the most" kind of style. So it's, you know, the L.A.P.D. evolves. The L.A.P.D. have always been very cutting-edge. You know, the first aviation support division, the first…
SWAT team.
…SWAT team, crime lab, radio dispatch vehicles…
LAPD didn't pioneer COMPSTAT. You could argue they did a better job with it…
They did a better job, yeah. Brown brought COMPSTAT to the LAPD, but they've done a fantastic job of actually using it to the true advantage of the departments and not have it just be a dog and pony show, you know, for the Brass.
("End of Watch" is in theaters this Friday. Find out more about movies on MSN Movies Facebook or through the MSN Movies Twitter.)