New on Netflix Instant: 'Memento,' 'Ronin,' 'Far From Heaven'
Plus 'Donnie Brasco,' Warren Beatty's 'Reds,' and a collection of cult and TV releases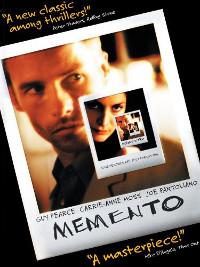 "Memento" (2000) is the film that put Christopher Nolan on the map. This ingenious thriller stars Guy Pearce as Leonard, a detective who has no short term memory and relies on notes he tattoos on his body to find his wife's killer. In this method, of course, lies madness, but it's a mind-bending ride to the end… or rather, to the beginning. The film starts at the end of the story and works back in stair-step scenes, throwing us into every scene blind and trying to figure where we are, just like Leonard. The ground shifts beneath this post-modern film noir in every jump, but more affecting is the sense of loss, loneliness, and disconnection behind Leonard's makeshift realities.
John Frankenheimer directs "Ronin" (1998), a lean, tough thriller of an international team of mercenaries hired to steal a mysterious but well-guarded brief case in Paris. Robert De Niro stars as the veteran leader and Jean Reno, Jonathan Pryce, Natascha McElhone, Stellan Skarsgard and Skipp Sudduth co-star, but the action is the real star. Frankenheimer brings old-school skill to the thrilling car chases through the narrow streets of Nice and the messy traffic of Paris and executes the heists and feints and double-crosses with sharp precision.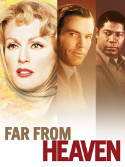 "Far From Heaven" (2002) stars Julianne Moore is the woman in the rayon bubble: a 1950s housewife whose idea of perfection is defined solely in surfaces until the hypocrisy she has looked past becomes to great to ignore. Director Todd Haynes embraces the exaggerated Douglas Sirk style of magazine perfect sets and Hollywood movie costume design (and these are costumes, not clothes) done up with perfect compositions and decorator Techni-colors, and Moore plays the ideal homemaker with poise, delicacy, and eager oblivion to her compromises, padding herself in gossamer and taffeta to avoid any real, raw emotional contact with the outside world. It's a smart and knowing tribute to the glossy melodramas of the 1950s.
"Before the Devil Knows You're Dead" (2007) is the final film directed by Sidney Lumet and he went out with a winner. The modest "perfect crime gone wrong" thriller, starring Philip Seymour Hoffman and Ethan Hawke as brothers who plot to rob their parents (Albert Finney and Rosemary Harris) shifts backward and forward from the deed, following the trajectories of the brothers and the father and the bystanders churned up by their drama, but at the heart of this crime-gone-wrong thriller is the lacerating drama of a family eating itself raw.
More new arrivals and Netflix recommendations at Videodrone
For more releases, see Hot Tips and Top Picks: DVDs, Blu-rays and streaming video for the week of July 10