Shocking! Andrew Garfield Wants To Continue Playing 'Spider-Man'
Sony is already plotting a sequel to next week's 'The Amazing Spider-Man'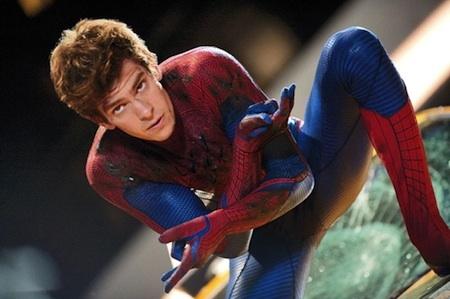 Here's a shocker: as per THR's incisive reporting and in-depth analysis, Andrew Garfield (Spider-Man in the upcoming "The Amazing Spider-Man") wants to continue playing Spider-Man.

Although "The Amazing Spider-Man" hasn't even come out yet—it will debut theatrically on July 3rd, so mark your calendars—Sony is already banking on its inevitable success, hiring the esteemed writing duo of Alex Kurtzman and Roberto Orci ("Star Trek," "Transformers," "Cowboys & Aliens," etc.) to craft its screenplay.
Does burgeoning Hollywood heartthrob Garfield really have anything to fear as far as not appearing in "The Amazing Spider-Man 2?" Although previous "Spider-Man" Tobey Maguire was similarly and unceremoniously tossed over in favor of Garfield, we suspect the "Social Network" star can rest easy, reassured of his place as the face of the franchise. At least for the moment, or a couple of years, before Sony inevitably reboots the franchise for a second time or the rights to the character revert back to Marvel.
Besides, who would the filmmakers get to play Spidey? Jesse Eisenberg? "Spider-Man: Turn Off The Dark's" Reeve Carney? Maybe Tobey Maguire?
Are you sure you want to delete this comment?