Well, 'Scary Movie 5' is still happening, so here's a trailer for it
Doesn't it feel like this is 'Scary Movie 55'?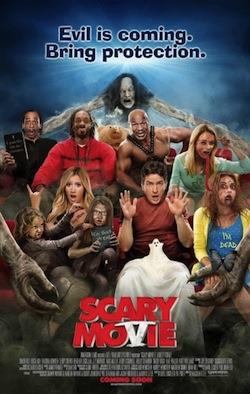 If nothing else, the "Scary Movie" franchise does manage to stay shockingly current, as the latest trailer for "Scary Movie 5" shows that the latest feature is cribbing straight from very recent releases like "Mama," the still-relevant "Paranormal Activity" franchise, and even that unreleased "Evil Dead" remake. Beyond that, well, it's just about as trashy, gross, and boring as ever.
This time around, the "plot" (if we can call it as such) centers on a family that adopts two creepy-looking girls with damaged pasts, only to find that their home is now prone to some still-creepier goings-on. Also, Simon Rex, Ashley Tisdale, Charlie Sheen, and Lindsay Lohan are there. And...yup, that's about it.
Also, there is a Honey Boo Boo joke. Sigh.
Check out the newest trailer for "Scary Movie 5" after the break.
"Scary Movie 5" opens on April 12.