Videodrone Blu-ray: Al Jolson is 'The Jazz Singer'
You ain't heard nothin' yet!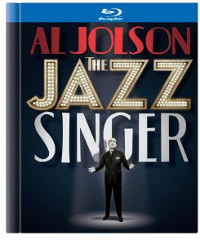 "The Jazz Singer" (Warner)
The era of sound had been knocking at the doors of silent cinema for years, but synchronized sound remained a gimmick until Warner Bros. took the leap and collaborated with the Vitaphone company to turn the Broadway musical "The Jazz Singer" into a hybrid silent film with synchronized sound sequences of the musical performances.
Al Jolson replaced stage star George Jessel and performed some of his best known hits live on film, but his impromptu dialogue in two scenes was as thrilling to the audience as the music: "Wait a minute, wait a minute, you ain't heard nothin' yet!" And they hadn't. It was 1927 and it was a sensation, the first step in what became the rush to sound and the beginning of the end for the silents.
As a film, "The Jazz Singer" is absurdly maudlin, a creaky story of a modern American son (Jolson) with "jazz music" in his soul banished from home by his old-world Cantor father (Warner Oland). And Jolson performs in blackface, a minstrel show style that was inappropriate then (despite its popularity through the early 20th century) and hard to overlook now. But Jolson is an entertainer first and foremost, a larger-than-life personality who seems to take the audience into his confidence as he mugs and shimmies his way through songs like "Toot-Toot-Tootsie Goodbye" and "Blue Skies" on his way up  the show-biz ladder. And he is at heart, after all, just a nice American kid living the American dream, but never turning his back on his dear old mother, despite what his papa decrees.