Cannes Review: 'Reality'
The Story of Job, when TV is God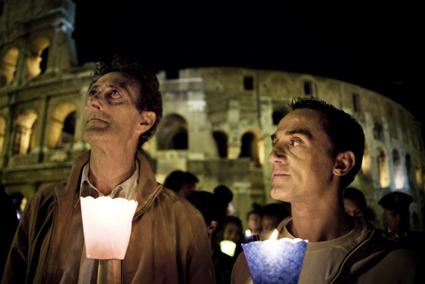 Rating: 4/5
Following up his gritty
crime-and-civilizati​on
tale "Gommorah," Matteo Garrone's "Reality" has only a few similarities with that broad and brutal film -- and, at the same time, for all of its light touches and sly humanity, "Reality" is still the work of a talent to be reckoned with. Set, like "Gommorah," in Naples, "Reality" stars Aniello Arena as Luciano, a father and fishmonger trying to get by and do well through love and a few schemes. The film opens at a garish wedding mill, with ceremonies and receptions taking place throughout the complex, and the big finish at the reception Luciano's attending is a drop-in from Enzo (Rafael Ferrante, brief and brilliant in his scenes), a contestant from the latest edition of "Big Brother." A while later, when Enzo's promoting the next round of "Big Brother" -- and conducting auditions -- at a local mall, Luciano can't help but see it as a sign from above, if by "above," you mean "Network TV"...
Much like the documentary "Videocracy," which looked at TV in Italy during the reign of Italian Prime Minister Silvio Berlusconi, a lot of "Reality" is underpinned by the idea of TV as bread and circuses for the 21st Century -- and, frankly, not especially nourishing bread and not particularly enjoyable circuses. (Berlusconi is himself a media magnate, it should be noted -- while the media-industrial power complex is everywhere now, the film's Italian setting is both philosophically and, with a few Fellini-esque flourishes, artistically appropriate.) But Luciano's excited, and he knows he'll get the call to be one of the "lucky" few who wind up sealed in the "Big Brother" house to live on-camera. And so he waits. And waits. And waits. 
Audiences expecting a hammer-blow satire in the mold of "Network" or "The King of Comedy" will be disappointed; Garrone's work here (alongside co-writers Maurizio Braucci, Ugo Chiti and Massimo Gaudioso) is a scalpel, not a blunt instrument. Luciano starts to think he's being watched by the show's producers -- when he's working, or when he denies a panhandler a handout -- and so he tries to not be a better person, but, rather, to convey the impression he's a better person. (There's a lot of Catholic imagery in the film, not by chance; at the same time, Luciano doesn't seem to have a lot of time for divine concerns.) If he gets on the show -- and he will, he assures his wife Maria (Loredana Simoli), even as the new season actually starts -- it'll change everything for his family. And a lot faster than working for it will. 
Arena's performance is both physically open and emotionally nuanced; the actor, found as part of a prison acting group, has a face that's half Jean Dujardin and half Robert De Niro.  And as Luciano's chances clearly dwindle, his faith increases until it becomes madness -- a gentle madness, but nonetheless. (Luciano's moment where he obsesses about a bug in his house -- literal, but which he thinks is there in the figurative sense of the word -- is both human and warm and, at the same time, terrifying and ominous.)
"Reality" is, for all of its eloquent camera work, sublime Alexandre Desplat score and
natural-but-calculat​ed
framing, nothing more (and nothing less) than the story of Job in an age when TV is God. If the hand of fate intervenes, Luciano will be raised up and celebrated; who would want to stop beliving in that hope, even as your family and friends give up on you? More kind than cruel, "Reality" is a rarity -- a satire with heart, and Luciano's sweet and foolish dreams of glory and riches are as unforgettable as they are impractical.
("Reality" is currently in competition at the Cannes Film Festival.
)