Paul Giamatti to play The Rhino in 'The Amazing Spider-Man 2'?
Actor is in talks to join the sequel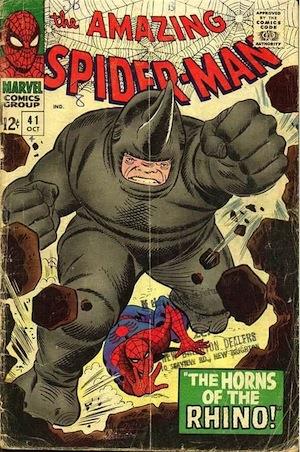 According to
The Hollywood Reporter
, Paul Giamatti is in talks to join "The Amazing Spider-Man 2" as The Rhino. The role would reportedly be a dream for Giamatti, who has always been a fan of the character, but could it spell trouble for the hotly-anticipated sequel? On the one hand, Paul Giamatti is a tremendously talented actor, and would be a welcome addition to any cast. And that's not even to mention how he seems to excel at villainous roles, playing against type. On the other hand, "The Amazing Spider-Man 2" already has a major villain in Jamie Foxx's previously announced Electro. And wasn't having too many villains part of what ruined "Spider-Man 3"?
Still, we can't blame director Marc Webb et al for avoiding the usual suspects when it comes to Spidey's rogues' gallery, especially not when Sam Raimi's original trilogy took all the iconic villains first. Is it too soon to bring back Doc Ock and the Green Goblin? Only time will tell.
What do you think, Hitlisters? Would Giamatti make a compelling Rhino? Would the role be out-and-out villainous, or more sympathetic, as per the latest, most popular depictions of the character? And how many villains is too many? As always, let us know in the comments...

I don't think two villains is a problem, if you have capable writers. I think you can look back through years of Spider-man comics and see numerous villain collaborations. My favorite of all is The Sinister Six. I always hoped, if they weren't going to end the Spider-man movie franchise with either the Green Goblin or Venom, that they would go out with a bang with the Sinister Six. Even though I hate The Vulture with a passion, I could live with him if he was sharing the screen with Doc Ock, Sandman, Kraven the Hunter, Electro, and Mysterio. How cool would that be? I know it would have been ten times better than the abortion that was Spider-man 3. 
Spider-man 3 didn't fail because of too many villains. Spider-man 3 failed because Sam Raimi didn't know what the hell he was doing. He didn't know if he was wrapping up the story line between Harry and Peter or creating a new one. He was changing the entire background story of Uncle Ben. He brought Venom into play when he really didn't need to. He gave Harry a completely different look. Harry was supposed to pick up the torch where his father left off, not become The Green Snowboarder. He looked ridiculous. And speaking of ridiculous...let's not forget the musical number and Peter going "emo" whenever the symbiote took him over. How stupid was that!? 
I remember sitting in the movie theatre thinking: "Yep. George Lucas and Sam Raimi have single-handedly taken two things from my childhood and destroyed them. Bravo."
Are you sure you want to delete this comment?