Steve Carell: Producer, Seducer and 'Crazy, Stupid, Love.'
On Makeovers, Comedy and Bein' Smooth with the Ladies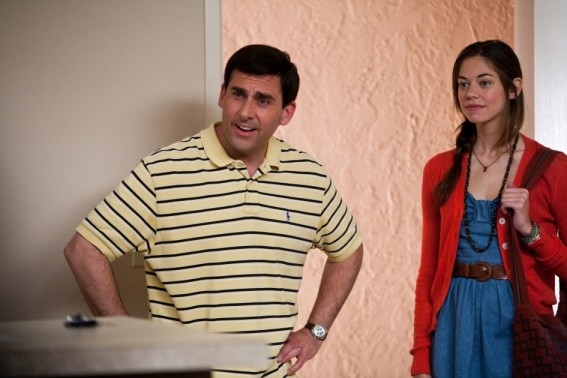 In "Crazy, Stupid, Love.", Steve Carell plays a long-married man whose imploding life-long marriage leaves him adrift and lost -- the perfect kind of human jetsam for smooth seducer Ryan Gosling to meet, mentor and make-over after childhood sweetheart Julianne Moore pulls the adult trick of crushing his heart. Carell's character, flailing and failing, is the center of "Crazy, Stupid, Love."  -- with the intriguing irony that Carell's never been more in control of his career; the comedy marks the first release backed by his own production company. We spoke with Carell in New York.
This film looks at a lot of big relationship issues and a lot of things about truth, but let's talk about the tough stuff first: You get a pretty good makeover.
Carell: I do.
 Was that gratifying to see that happen?
Carell: Yeah, I needed it.
 You're certainly a stylish gentleman in the real world.
Carell: For sure.
When they slump you down and then you get to twirl as if by magic and you're like Cinderella at the ball with Ryan Gosling --
Carell: It's a dream come true.
How was that as an experience? He's a pretty dramatic cat.
Carell: That's how he is perceived, but in real life, he is a goofball and very funny and very playful and silly and a really good improviser. I think people can have their preconceived notions as to who he is or who someone might be, but he's just a lot of fun.
You also get to work with Julianne Moore in this.
Carell: Yes I do. Fantastic. She's obviously a great actress -- actor -- however you want to put it. Again, could not be a kinder, more wonderful person. Yeah, absolute pleasure.
In this film, Mr. Gosling takes on the whole 'My Fair Lady' thing of turning you into a successful womanizer, a less comedic spin on the journey you had in 'The 40-Year Old Virgin.' At what point are you going to be in a movie where you have no problem whatsoever with the ladies?
Carell: I never saw this particular character as having a problem with the ladies: He's gone through it before; it's just been a long time. The crux of it is he has someone who became apathetic, and he's someone that in his apathy has let himself go a little bit and had stopped trying, and his self-esteem has been changed because of that. All those things have conspired to make him into the schlubby guy he is at this point. I don't think it's necessarily that he's bad; it's just that in his mind it's a bygone era of his life, and he needs to get back into it, figure out more about himself than anything.
This is a pretty interesting drama about being present and being aware and making the choices it takes to make you happy. When you're reading it, there are jokes, but it's got to be gratifying to play someone with that depth, even amongst all the laughs.
Carell:  I think so, and that's one of the reasons we chose this. This is the first thing that my company's producing, and it's one of the things that everyone who read it sparked. It has layers, and it has a lot of different aspects to it in terms of the characters, in terms of the relationships, and it's funny. It's very funny, but it's grounded in very human emotions.