Carrie Fisher Declares 'Star Wars' Superior to 'Star Trek'
Princess Leia took to video to refute William Shatner's claim that 'Trek' was the better franchise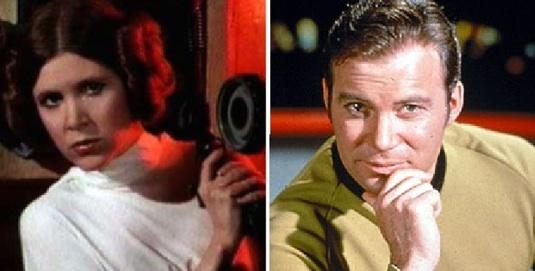 In an ongoing debate far more interesting than anything coming from the Republican presidential candidates, Carrie Fisher hotly rebuffed William Shatner's assertions that "Star Trek" is way better than "Star Wars." "First of all," the former Captain James Tiberius Kirk spewed in a recent interview, "'Star Wars' is derivative of 'Star Trek' by what…10, 15, 20 years? DERIVATIVE!" The bellicose Shatner continued. "'Star Trek' had relationships and conflict among the relationships, and stories that involved humanity and philosophical questions," he said in the video chat that he tweeted to his fans. "'Star Wars' was special effects!"

Whoa! Those be fightin' words in this or any galaxy. And now Carrie Fisher has struck back.
"They're not in the same league," the former Princess Leia declared flatly in a video uploaded to her YouTube channel (see below). "I mean, they have the word 'star' in the title, and there's space travel, right? Where did they go? Klingon? It just sounds like a laundry detergent."
I haven't seen Fisher this feisty since she was wearing a leather bikini and pulling on the end of Jabba the Hutt's leash. "My space buns—they're so much better than Nimoy's ears!" Carrie also pointed out that former vice president Dick Cheney prefers "Star Trek." Ouch. That one hurts!
While I believe Fisher's remarks were made with her tongue planted firmly in cheek, I certainly agree with her assessment that "Star Wars" beats "Star Trek" with its lightsabers tied behind its back. No word yet from Shatner's camp but I wouldn't advise the actor to go head-to-head with a brilliant wit like Fisher. He'd be safer on Princess Leia's home planet of Alderaan—and we all know what happened to that. 
It's Shatner himself who is out of his league. Why not get someone from the "Star Trek" world who is more capable of going up against Carrie Fisher? Anyone for a smackdown between Princess Leia and Lieutenant Uhura?
Where do you stand on this intergalactic Battle Royale? I declare myself a firm member of Team Leia. Take a look at Shatner's original ravings and Fisher's response after the break.