Interview: Director Nicholas Stoller and Producer Judd Apatow of 'The Five-Year Engagement'
Comedy, Length, Romance and Going Too Far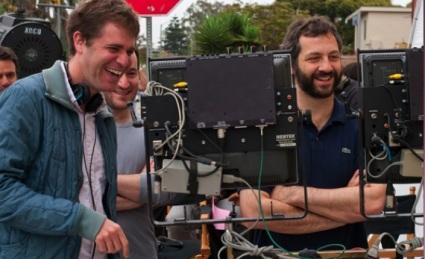 Confronting the press like a well-timed comedy double-act -- which, in many ways, they are -- director Nicholas Stoller and producer Judd Apatow spoke with MSN Movies (among other reporters) about their new film, "The Five-Year Engagement," which depicts the loves and challenges of Jason Segel's Tom and Emily Blunt's Violet, a couple madly in love but still confronted by very real problems. Director Stoller spent most of last year celebrating the success of "The Muppets," which he co-wrote with Segel; Apatow, of course, has done more to define comedy on film in the past 10 years than perhaps any other director or producer.
The films made under your name, Mr. Apatow, they're like these really well-marbled steaks -- the fat is the flavor and there's really no clear place to cut. How hard is it when you've got all these talented people, working on this very smart script, given room to play, to make the final assembly cut? How much of that is you in some advisory role going, "No, you have to make it tinier" or "No, no. Leave that in ..."?
Apatow: That sounds really good. I want a steak now. I'm always going, "Keep it longer." I'm the worst person for that. I try to just save a fresh clear head for whoever I'm working with, so hopefully its helpful that there's someone who doesn't have to sit in the editing room twelve hours a day and who's blinded by the massive footage and options that they have. So that when Nick is happy with a cut, and I see it at the previews, I've just been at the tanning salon all day, fresh as a daisy.
Stoller: He's very tan when he comes to the first take.
Apatow: To enjoy or notice something -- I know because I've been editing my movie, "This is Forty" -- that I need Nick and people like that to come to cuts to say "Does it make sense? How did it feel in that section, because I've watched it four hundred times, and I have no idea if its working or not." But the audience does it. We do a lot of previews, and we like seeing where the laughs are, and reading the cards, because if the audience doesn't understand it then we've failed.
Stoller: I don't really get attached to anything. I'm pretty brutal about cutting stuff. With each successful movie, I've discovered anything that's not connected to the immediate story is going to be cut out of it. I learned that the hard way in "Greek," where anything that didn't have to do with getting him to the Greek was cut out of the movie. Then we did re-shoots to make sure there was a section that they weren't going to the Greek, and then we ended up having to do a little bit of a re-shoot to fix that.
So ... tell me how Chris Parnell's affection for knitwear ties into the main plot in this film?
Stoller: Chris Parnell represented the masculinity kind of completely destroyed, a total nervous breakdown of masculinity. He's a stay at home dad, and he's a househusband, and he knits, but then he takes out his weird anger by killing things when hunting. The knitting came out of wanting to make him a househusband.
Where did the decision about how graphic to go with the hunting come from? There's a woman next to me at the screening who almost left because of it.
Apatow: People like animals; that's what I'm learning. When we did "Anchorman," Jack Black kicks the dog off the bridge, and I remember Mike De Luca was the head of DreamWorks Pictures at the time, and he said, "People are going to go crazy. You can't kick a dog off a bridge," and I said, "It's a stuffed animal. Literally, we make sure you can tell it's a stuffed animal." He was like, "People are not going to like it. You're going to have a problem. You're going to have to do a re-shoot," and people were so upset. Then we had to do a re-shoot, where you saw Baxter climb out of the river, and the people were like "Yay! The stuffed animal came back to life." There're definitely were discussions about how fake the deer needs to look to kill it.
Stoller: We did the deer as puppets. They look intentionally fake. We did a visual affect. We paid a fair amount of money to make the deer look real, and right before the deer got shot, it like blinked. It was so horrifying, and they put blood spray. So it's really cute, it blinks, then it gets shot in the head, and blood sprayed. We had to take out the blinking and go back to it looking fake. Deer are also like dogs, but  except for Bambi, they're pretty personalityless. 
You had some other kind of gross moments. How do you guys weigh that in terms of this is a romantic comedy?
Apatow: We look at it like, "Okay we've shown all the other major appendages, now we need to freeze them and cut them off."
I'm curious -- was there ever an iteration or version of the script that ended with Tom and Violet not necessarily getting their happy ending?
Stoller: A "happy ending?" No -- that's dirty. No, at the very beginning Jason and I talked about that, but that's not the point of the story we're telling. We're telling a story about two people, who are at the end of the day right for each other, trying to figure it out. That would feel not correct for the story we were telling.
You guys are both married. Did you guys bring any suggestions or things to the script?
Stoller: Yeah, I mean think just in terms of having a relationship over many years, and certainly some of the specific wedding planning stuff was. I remember having a lot of trouble finding the venue. That was a big problem for us, the venue search. In terms of the emotional underpinning and stuff, both, if you've just been in relationships you understand what's happening in the stuff. Both Jason and I had been.
Apatow: I only influence with my passive aggressiveness and my codependence, and then I offer the book, which is the Bible, "Do I Have to Give Up Me to be Loved by You?" We understand kind of that weird people pleasing, where you would go to Michigan to make your girlfriend happy, but you really want her to owe you. That's one part of the movie that I thought was really interesting, because I think a lot of people do that. They try to be the angel in the relationship, but there's so many strings attached to it.
Stoller: I certainly do that, the "I can give more than you."
The martyr race?
Stoller: The martyr race. There it is.
Mr. Stoller, Was the whole scene of having this sort of screaming David Mamet-Edward Albee meltdown done in Elmo and Grover voices a little bit of payback for spending so much of last year obsessed with felt?
Stoller: Oh yeah. I think so. It was. We tried to get Elmo into "The Muppets," because there's always like a "Sesame Street" cameo, and the joke was that they're trying to get celebrities, and they try to get Elmo. In the background you see Elmo, and in the foreground his lawyers, and they're like "He can't do it. He's not going to do it." Reality followed fiction -- Elmo's lawyers said he wouldn't do it. I have a four and a half year old, and when she was two and a half she would make my wife and I do voices, like Woody voice, Elmo voice or Yogi Bear and Boo-Boo. If we didn't do it she would scream at us, so my wife and I would have adult conversations as Yogi Bear and Boo-Boo. I'd be like "When do you want to go to Ralph's?" and my wife would be like "How about three o'clock? Make sure to pick up my prescription." I would do Yogi and she would do Boo-Boo and Jessie the Cowgirl. It was just a nightmare year. Right now she's really into Nala from "Lion King." It just seemed really funny to me to have Alison doing an Elmo voice to get this conversation to going, and Jason was like, "Well if Alison is doing Elmo, then obviously Emily should do the Cookie Monster," so that's how the scene happened. 
I was wondering you could talk about the running time. Standard comedies generally typically run ninety minutes, but your films tend to be two hours and I'm kind of curious about that approach and kind of extending it by that much and ensuring that the pacing maintains.
Apatow: We're fighting the attention span of Earth. I don't think there's that many great ninety-minute comedies to be honest with you. The ones that I always liked whether its "Terms of Endearment" or "Broadcast News" or "Fast Times of Ridgemont High," they were all like two hours or a little bit over two hours. With that extra fifteen, twenty minutes is where you can get to real character, and you're not just stuck in plot. There are people who like short movies, and I think they should just watch our movies on DVD, because they can pause and go to the bathroom, eat dinner, and come back to it. Every time I'm in editing there's always a moment where you think, "Maybe this should be six or seven minutes shorter, but I'm losing character and story that I think is important." When I like things, I'm not in a rush for them to end, but there are people that entertainment is something they do at the end of a long hard day at work, and they want to be entertained and over quickly. "Entertain me fast!"
Stoller: So watch it in two sittings.
Apatow: We debate it all the time, but sometimes it gets worse as we cut it.
Stoller: They get less funny. It's interesting to have the awkward moments play out and the real human interactions. The more you cut that down, you lose the joke, which is that this is painful and hard.
Apatow: Which is hard, because I'm about to do a movie of the TV series "Moonlighting" -- seventy-one minutes and three hundred pages.
I'm always curious talking to directors, because there has to be that one day that blows up, that is just untenable. Where you just incur expenses and stresses you never envisioned. What was that day?
Stoller: Well, its never expenses. We just don't go over budget; otherwise the studio doesn't let us make them. There was on day on this -- between Judd and we have a great line producer on these movies, who makes sure to be thinking ahead -- but on this movie it was the wedding. We did not have enough time to shoot he final wedding in San Francisco. We had a day to shoot it. I like to do like a lot of takes. We did probably two takes of each thing, because there was so much coverage to do. We ended up slopping over onto a second day, and kind of pushing some other stuff forward a little bit forward, so that was the way we kind of handled it. But that was the only day, and that was the only day I decided I would try yelling to get everyone excited to move forward, and it just turned into an apology. Like I started, "Okay, guys! We really got to move forward. We're kind of slowing down. We've got to move forward. I know this is really hard. I get that this is super hard, and I really thank you, and I'm sorry for yelling."
Apatow: We were just like "Men in Black III."
There's also one shot in the wedding where you can see all these civilians like snapping cell phone photos, and a jolly big crowd of them. Do you just want to fire hose those people?
Apatow: Well, they love weddings. They love weddings.
Stoller: That happened, and we were thinking well that's what happens when people get married in public places. People take photos.
Apatow: With pictures of Jason Segel.
Stoller: Exactly. So I didn't try to shut it down. It seemed realistic to me.
Jason mentioned that the most expensive shot in the movie got cut out, when you blew up a restaurant. What other stuff didn't make it into the final cut that was the hardest to get rid of?
Stoller: The hardest to get rid of? I don't know. I'm pretty brutal about getting rid of stuff. There wasn't anything that I was like, "Oh, I miss that," because usually its for a good reason. The dumbest joke that actually got a laugh when we tested it, but just was too dumb and really makes me laugh was a Rodney Rothman joke, really funny. After the deer falls off of the car, and the deer is setting next to him, Jason's phone rings. He drops the phone on the floor of the car, and he pulls over to reaches down to get the phone, and a person is walking by, and it looks like he's giving the deer oral. It's just hilarious, but we were like "Ah, its like thirty seconds to get a deer oral sex joke."
Apatow: Sometimes you need seconds
Stoller: Yeah, we could've, but we like it to sit in the awkward. We lose the character of the deer.
Apatow: It could've been ninety minutes.
("The Five-Year Engagement" Opens Today.)