Interview: Elgin James, Unlikely Director of 'Little Birds'
The former gang member and Sundance favorite recently completed a year in a maximum security prison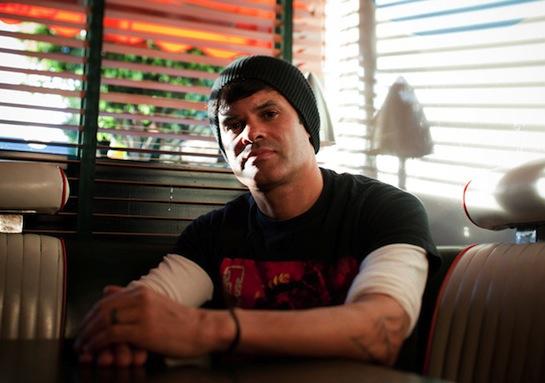 Of all the circuitous roads aspiring filmmakers have taken to Hollywood over the years, I can't think of anyone with a more unexpected path than Elgin James, the talented director of "Little Birds," a new film starring Juno Temple, Kay Panabaker, Leslie Mann, and Kate Bosworth. A longtime gang member turned hardcore musician, James decided to turn his life around and eventually found himself at the Sundance Screenwriters Lab where he developed the haunting "Little Birds." But shortly after completing the movie, an old crime caught up with him and he was sentenced to a year in a Chicago prison. I can't think of many people who have gone directly from incarceration to promoting their indie film! Now committed to nonviolence, James found his muse in upcoming star Juno Temple who gives a powerful performance in this film as Lily, a young girl who seems lost in her life and puts herself and a friend in some very dangerous situations. I spoke to Elgin James in Los Angeles.
MSN Movies: Coming from your background, how on Earth did you end up making this film?
Elgin James: I had been in a gang for like a decade and a half in Boston. Then my mom got sick and I made some promises to her. At the time I felt like such a loser—I was in my 30s, I was a gang member, I'd never given her anything to be proud of. So, as I sat with her in the hospice, I found myself promising to change my life. It was only afterwards that I thought, "How the hell do I do that?"
A lot of my friends had joined biker gangs, and that wasn't something I was interested in. My other friends, I know it's a cliché, but they either died or ended up in prison. At some point I thought, "Well, I've always loved movies, that's always been my escape, so why don't I try that?"
So you just packed up and moved to Los Angeles?
Yep. My wife and I threw everything we had in a van and moved across the country. And I thought, "Okay, I'm here, I'm going to make movies!" 
I read that for a while there were plans to make a biopic about you and your experiences in your gang, FSU, a group that often came up against the white power skinhead gangs in Boston.
Yeah. There were a couple of articles and TV shows about me and the gang at the time so people got interested. All of a sudden I found myself on the Fox lot with an A-list star who's going to paly me and an A-list director's going to direct this film about my life. At first I thought, "Hey, that was easy!" But as time went on, the studio wanted a more simple version of my story and it was no longer looking like my life. They were trying to make me into this hero, which wasn't how I felt at the time at all, I was still wrestling with a lot of the stuff that I'd done. My wife started questioning the whole idea of the movie. I told her, "We have nothing, we're broke, we don't know anyone here, I have to do this!" And she said, "No you don't! You know it feels wrong inside. Just stop—you can do it on your own!"
Wow, that must have taken a lot of courage since you already had a deal for the film! Can you say who was going to play you?
Justin Timberlake! He's a really nice guy. And Nick Cassavettes was going to direct, another great guy. Nothing on them, but a studio movie like that quickly becomes this machine. I was just the dumb gang guy in the room! All of a sudden my life becomes PG-13. I'm mixed race but they want to make my character white. It's becoming less and less my story, so in the end I just walked away and thought I'll write my own movie. Everyone thought I was out of my mind—except for my wife who was all for it.
So how did you end up writing this movie about two girls? 
I went home and thought, "How the hell am I going to tell this story without glorifying and glamorizing violence?" I really didn't want to do that. It was supposed to be the story of me and my friend Bruce and finally I thought, "I'll just change us into girls!" I think girls are so much more interesting anyway—if it was two 15-year-old boys at the center of the film there'd be nothing but long silences and an occasional "Fuck you!" This way I could get some distance and be way more open and vulnerable.
When I talked to Juno Temple, she said you two had an immediate connection.
Oh my God, as soon as we saw each other, I was like, "This is my dude!" It was funny because her father, Julien Temple, had directed this film called "The Great Rock and Roll Swindle," which was one of the reasons I got into punk rock as a kid. And now, all these years later, to have his daughter be such an important part of my life! And to have him there at the premiere of "Little Birds" at Sundance.
How did you find Juno?
When I finished the first draft of the script, they asked me to make a list of who I wanted to play the lead roles. I'd recently seen "Notes on a Scandal" and "Atonement: and there was this girl who just haunted me so I said, "Okay, Juno Temple and Juno Temple!" And they said, "Oh, you'll never get her, she's like the hot thing right now, she's working on Ben Stiller's 'Greenberg,' she'll never come in to read." So I thought, fine, well, you told me to dream! And then, all of a sudden, during one of our casting sessions, this girl comes in and I thought, "Oh my God, Juno Temple is here!" She rolls in with this crazy fake fur jacket or some dead thing and she was incredibly hung over! She had just found out that she had nothing in the bank, no money, and she had to fly back to England. So she got horribly drunk the night before, but she loved the script and had her boyfriend drive her over there. She told me they had to stop on the way twice so she could throw up!  
That actually sounds sort of perfect for the character of Lily!
Totally perfect! But everyone was telling her, "You're on the cusp, you're going to be this huge star! Now's time for a real payday!" And she said, "I have nothing in the bank but I really need to make this movie." And of course she made almost nothing on it! We were inseparable from that moment on. We really became family and part of each other's lives. We ended up spending about two years working on the script. The funny thing is, I have all this horrible damage and wreckage and beauty in my life that I wanted to get on paper, and even though she's had a much different life, she felt the same way and could bring it all to life. The film became this huge organic thing that elevated anything I ever could have thought of on my own.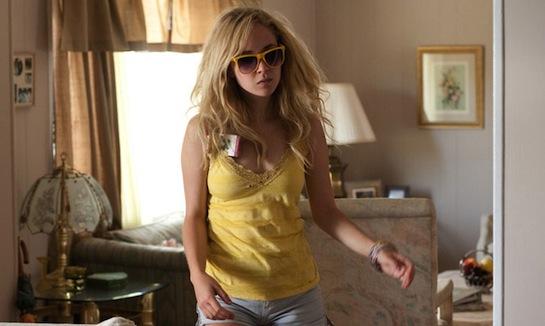 So do you see Juno's character as imbued with your own sensibility?

Oh, completely. I grew up in a small farm town that didn't look anything like the Salton Sea, it was in rural New England, but that's how it felt to me—dry and barren. I was into punk rock, I was hanging out with my pigs on the farm, but then I finally got out and was just devastated by the world. That's really my story through Lily. Juno grew up very differently, but at the same time, we were both these kids living out in the middle of the woods, for her it was southwest England, and we were both daydreaming about a different life. Neither of us had a lot of people around or a lot of friends, we just used our imaginations. So it was so cool as adults to come together from different sides of the world to daydream and make movies together!
Do you see that collaboration continuing?
Definitely! We have a whole bunch of scripts we're working on together.
Cool! How come it took so long to get "Little Birds" made? 
There were so many times when I thought it wasn't going to happen at all. And then, just after we finally got our financing, I got arrested by a dozen FBI agents, so we lost it. It was a horrible time. I thought, "My whole world is gone, what am I going to do?" I didn't even want to get out of bed and it was my wife and Juno who encouraged me. That's why I wanted to make this film as a love song to all of the amazing strong women in my life—from my mom to my wife, Liz, to Juno Temple, they all kept me going! People kept telling Juno, "Yo, you're about to be this huge star, you should ditch this guy who's going to prison!" But we just kept moving forward.
You know, there's such bleakness in this film, yet it's one of the most visually beautiful films I've seen. It reminded me of some of Terence Malick's movies.
Thank you for saying that! Our DP, Reed Morano—talk about another strong woman in my life! It was important to me to have a mostly female crew because of the story we were telling. We found Reed who shot "Frozen River." She's one of my closest friends now, she's a brilliant cinematographer. I've been so lucky. Catherine Hardwicke was one of my advisors at Sundance, she's been another real mentor to me.
She directed "Thirteen" right?
Yeah, very much of the same universe as this film. I remember when I was living on the streets in Boston I'd sneak off and go see all these great indie films like "Thirteen" and "The Kids" and "Manny and Lo."
How did Catherine mentor you at Sundance?
I'd shoot stuff and she'd be like, "I'm bored. What are you showing me? There's nothing here!" She had the courage to be really honest. So we'd have these long and intense discussions, she taught me so much. So did Ed Harris and Michelle Satter who run the Labs.  And Walter Mosley who was also my advisor. I remember him telling me once that I knew nothing about character development. And I went, "Fuck you!" And then I said, "What's character development?" So these people made me really reach inside of myself and tackle these things. On the day I got sentenced to prison, I got hired by Brian Grazer to rewrite a script which was great since that meant my wife would have some money while I was in prison for a year. And you know why he hired me? Because of my character development!
Is it weird for you that "Little Birds" is now considered something of an "arthouse film?"
It is a little weird! I definitely feel part of a real tribe with the people who worked on the film. And coming from the Sundance Labs, I feel a real affinity for that, but going to the festivals, that doesn't always feel like home to me. But it's amazing when the film resonates with any audience. The producers kept asking me, "Who is this film for?" I get it, they have to sell it, but I'd be like, "That's your problem, I have no idea!"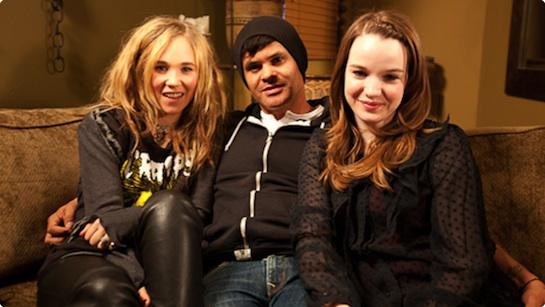 "Little Birds" opens today in Los Angeles and select cities. Elgin James will participate in Q&A's after the 7 pm screenings Friday, September 14, at the Laemmle NoHo7 and Saturday, September 15, at the Playhouse 7.