Interview: Brandon Routh and Chelsea Ricketts of 'Crooked Arrows'
The former Superman finds a different kind of strength in this inspiring Native American tale centered on the increasingly popular game of lacrosse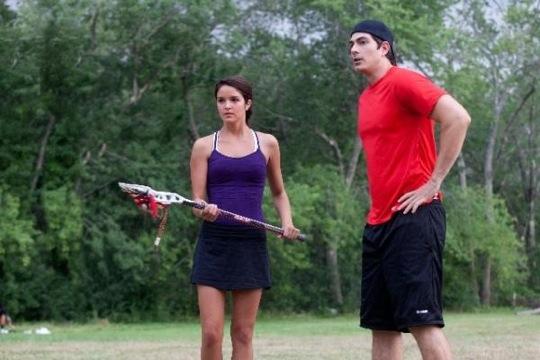 I was a little skeptical about sitting through a film about a sport I knew nothing about and which I associated mostly with snooty east coast prep schools. But by the end of "Crooked Arrows," I was itching to get my hands on a lacrosse stick and see if I could find a pick-up game somewhere in Los Angeles. And I'm sure I could—lacrosse is apparently one of the fastest growing sports in the country. I was fascinated to learn of the game's Native American roots—something that is explored to great effect in this moving film.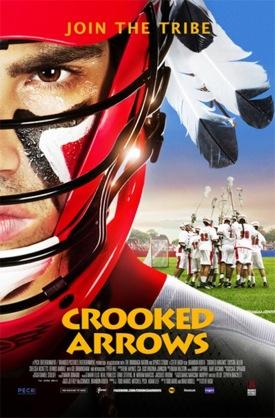 Brandon Routh ("Superman Returns") plays Joe Logan, a mixed-blood Native American who is trying to modernize his reservation's casino. But first he must prove himself to his father, the Tribal Chairman, played by Gil Birmingham ("The Twilight Saga"). He will only consider Joe's request for more land if Joe agrees to coach the reservation's struggling high school lacrosse team. Once an aspiring lacrosse star himself, Joe drags his heels at first, despite the encouragement of his sister, Nadie, played by Chelsea Ricketts ("The Killing"), the team's assistant coach. Unable to reach his players, Joe ultimately realizes that the key lies deep in the traditions and heritage of his people.
I recently spoke with Brandon Routh and Chelsea Ricketts in Los Angeles. As I sat down, I told Routh that the last time I saw him he was beating up unruly frat boys on my front lawn—my Los Angeles home was being used as a Yale fraternity house for a TV pilot that never got picked up.
Brandon Routh: Oh, no way! I remember that day really well, that's hilarious! Sorry about any damage I caused!
MSN Movies: So how familiar were you with lacrosse before making this film?
Brandon: I did a segment of it in P.E. in 8th grade but, honestly, there was no lacrosse in Iowa at that time. When the opportunity for this movie came along, that was one of the things that appealed to me—getting paid to learn how to play!
How about you, Chelsea? I really believed you as the team's assistant coach!
Chelsea Ricketts: I was born and raised in Houston, Texas, and when I was in school, it wasn't big at all. But now it's a HUGE sport in Texas, just in those four years since I left! I loved learning the game but it's hard, let me tell you—holy cow!
I know you both have some Native American blood in your background, but I assume you had to learn a lot about that world as well.
Brandon: Absolutely. We were completely immersed in the culture the whole time we were there. One of our producers, Neal Powless, is a member of the Onondaga Nation, so he was sort of our resident guru during the shoot for all things Native American.
Chelsea: That connection is what drew me to the film. Most of the population has no idea that the Native Americans invented lacrosse. It's their medicine game, which is very cool.
Brandon: The Native Americans played it originally to honor their Creator, it wasn't about winning or losing, it was about expressing their humanity in a very physical way.
Is it true that the guys who played the lacrosse players on the team were not professional actors?
Brandon: That's right. I thought that was going to be a challenge but the kids did a great job, which is also a credit to our director, Steve Rash. There's a tendency in that kind of situation to get worried and over-direct but he just sort of let them be.
Chelsea: Yeah, I think only Michael Hudson who played Reed, the goalie, had any acting aspirations. For being non-actors, they really killed it! Oh my gosh, they were very impressive on set!
And all of them were actual Native American lacrosse players?
Chelsea: Yes, most of the boys were Onondaga or Mohawk. We all became such good friends—it's been almost a year since the filming and I still talk to those guys at least once a week! A lot of them are playing lacrosse in college now.
You can really feel that camaraderie in the film. Speaking of which, Chelsea, how was it filming that locker room scene when you burst in on the half-dressed guys?
Chelsea: Oh my God, I saw way more than I should ever see, I'm scarred for life! It was actually a really fun day. At first some of the guys were like, "There's NO way I'm doing that!" but by the end everyone was running around snapping their towels!
Did the Native American cast members ever want to change anything in the script because they didn't think it was authentic to their culture?
Brandon: For the most part, anything like that was already dealt with because we had this great collaboration with the Onondaga Nation. They pored over the script and flagged anything that could be seen as offensive or irrelevant or just factually wrong.
And the film also features a lot of the big players from the lacrosse world?
Brandon: Yes, we partnered with U.S. Lacrosse, which is the group that oversees all of the lacrosse teams around the country. They were great at getting the word out to all the players and we have some major league lacrosse players in the movie as well as a bunch of big-time coaches from different schools who came to be a part of the film.
Chelsea, how was it working with Brandon?
Chelsea: We immediately clicked as brother as sister, which was great because sometimes on a film you really have to work at those relationships! Everyone was always like, "Superman! Superman!" but he's so much more than that. You look at Brandon and he's this beautiful, strong, tough-looking man but he's really the sweetest, most down-to-earth, kind-hearted person you'll ever meet!
Did having Gil Birmingham play your father make you feel you were getting to have your "Twilight" moment?
Chelsea (laughing): Oh my gosh, yes! It's funny because my dearest friend in the world, Christian Serratos, is in those movies, she plays Angela, so it was really fun to work with Gil who's such an amazing actor. But truth be told, I'm a Harry Potter fan, so Christian hates me! Sorry, but Harry Potter is the best. When "Hunger Games" or "Twilight" get their own theme parks, then we can talk!
What would you say to people who have never even heard of lacrosse to convince them to see this movie?
Brandon: If you like underdog sports movies, that's a reason to see this movie. If you have an interest in Native American history and culture, that's a reason. If you want your kids to get interested in a sport, you should see this movie. There is probably lacrosse in your area, you just may not know about it yet!
Chelsea: There's so much more to this movie than just the lacrosse aspect. For girls, there's a whole bunch of hot guys, so that's intriguing! I love how my character helps Brandon find himself again. I think everyone will have a different idea about what the message of the title is. For me, I think that no arrow flies straight. You may think your path is one thing, but if you stay true to who you are and who you want to be, you'll find your way, even if it looks very different from what you thought. That's what I took away from "Crooked Arrows."
So what's next for you guys?
Brandon: I have a new sitcom that was just picked up by CBS. It's called "Partners" and will be on right after "How I Met Your Mother." It's about two architects who've been best friends forever—one is straight and one is gay.
Chelsea: I just finished filming AMC's "The Killing," which was the coolest thing, and now I'm filming a new role on "The Secret Life of the American Teenager" on ABC Family. I'm the school's new mean girl which is a lot of fun! I also play another Native American character in a movie coming out called "Chasing Shakespeare" with Danny Glover and Graham Greene. It's such a beautiful film!
Have you already screened "Crooked Arrows" for the different Native American tribes that are in the film?
Chelsea: We had the premiere in Syracuse and most of the theater was filled with Native Americans. I cried that night, it was the best experience of my life to hear that positive feedback. The two main things we wanted to do with this film were to stay true to Native American culture and to do lacrosse justice and I feel we were able to accomplish both of those things.
You sure made me care a lot about a sport I didn't give a damn about before.
Brandon: Hey, that's a great tagline, we should use it!
("Crooked Arrows" is currently playing in select cities.)