Interview & Video: Andy Samberg and Selena Gomez of 'Hotel Transylvania'
Horror, hilarity and lovable monsters ...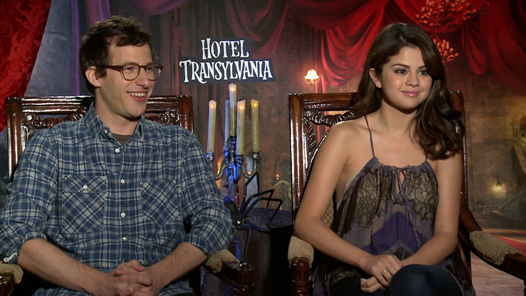 After watching "Hotel Transylvania," actually talking to voice-acting stars Andy Samberg and Selena Gomez is a little dislocating; they of course look nothing like their characters, but their vocal work is just close enough to who they are when being interviewed that you could close your eyes and still hear the parts they play. Samberg is Johnny, an enthusiastic backpacker who becomes the first human to stumble across Dracula's Hotel Transylvania, a monsters-only resort and residence; Gomez is Mavis, Dracula's 118-year-old daughter -- not a girl, not yet a woman, all vampire. Their unlikely romance provides heart -- and humor, even as devoted dad Dracula (voiced by Adam Sandler) tries to wrap his undead head around a lively teen romance. We spoke with Samberg and Gomez in Toronto about scares, monsters, Halloween traditions and the art of animation acting.
MSN Movies: How much fun is it to just throw yourself into a verbal performance when doing animation?
Andy Samberg: It's very fun. It's very loose, and it's, you know, very low pressure because you can kind of just try a bunch of different things and they'll pick what they like and make it look crazy and awesome.
But in your vocal performance Mr. Samberg, it sounds like you might strike people with your elbows. You just give your lines so enthusiastically.
Samberg: (Laughs)
Do you work up a body language playing Johnny?
Samberg: Yeah, you had to bounce around a little bit to play that part. He's very enthusiastic and very happy about life.
Is it nice to have a computerized version of you with slightly rubbery-er, more rubbery…
Samberg: (Laughs) Rubbery-er?
Rubbery-er? More elastic?
Samberg: More elasticity ...?
                                                                     BING: 'Hotel Transylvania' l 'Ghoulies'
More importantly, Miss Gomez…
Selena Gomez: (Laughs)
How do you tap into playing a 118-year-old teen? I mean that's a bit of a contradiction, right?
Gomez: A little bit.
Yeah? Sheltered life?
Gomez: Me, or Mavis? (Laughs)
Mavis.
Samberg: (Laughs)
Certainly Mavis. Not you.
Gomez: Um, yeah, obviously. She's never really left the hotel. Her father built it for her specifically to keep her safe and away from humans so, you know, she's ready to kind of break free of that, I think.
And the fun of playing a character whose physicality can express her emotions -- turn into a bat, turn into smoke, go for a little quick flight ...
Gomez: Yeah.
That's fun? That's enjoyable?
Gomez: It was fun. I mean half the time I didn't really see what it would look like because it was a little sketching or something, so to see it come to life was really cool.
As opposed to using your imagination?
Gomez: Yeah. (Laughs)
Kids love monsters. I'm curious when you were younger, who was your favorite monster, your favorite monster archetype? Were you a werewolf person? A Franken-steen person?
Samberg: (Laughs) Franken-steen.
From "Young Frankenstein."
Samberg: Yeah.
But which monster was your favorite?
Samberg: I was saying I love the movie "Gremlins," less fond of "Ghoulies"…
Right.
Samberg: …because it scared me about the toilet.
Right.
Samberg: I don't know if you remember the posters ...
With the monsters coming out of the toilet ...
Samberg: Yeah, which is like ... as a kid, there's no bigger nightmare than that.
Yeah.
Samberg: But I guess effectively scary.
But if you're still obsessing about it, then it's a remarkably effective poster.
Samberg: I still to this day have never gone to the bathroom.
Excellent.
Gomez: (Laughs)
Samberg: I'm in so much pain.
Miss Gomez, your favorite monster when you were growing up, when you were younger?
Gomez: I mean, I liked Freddy Kreuger and Jason, Michael Myers.
Did you find yourself wishing that some of the newer school monsters could've gone into the Hotel Transylvania, or is that too much of a…
Gomez: Oh no, that would've been too much.
Samberg: Sequel.
Ahh. "Hotel Transylvania: The Next Generation."
Samberg: (Laughs)
Gomez: Woah, that's intense.
Samberg: Actually, that's a good idea.
That's a good idea?
Samberg: Yeah.
Have you gotten little tiny Happy Meal or action figure versions of your characters yet?
Gomez: No, but you're pitching some good ideas.
Samberg: Yeah.
I'm pitching… ?
Samberg: They've got to put you on the marketing team.
Gomez: (Laughs)
(Laughs) In theory, Mr. Samberg, some would say that by my doing this, they already have.
Gomez: Oh, yeah.
Samberg: Oh, wow. (Laughs)
What do you hope kids get out of this film?
Samberg: I think kids will get plenty out of it. I think they're, like from watching it with a bunch of kids in the theater it seemed like they loved it, which is great. It's funny, it's you know, there's a lot of heart to it, there's a lot of family and sweetness.
Gomez: And fathers and daughters can see it, too.
That kind of bonding? Whether warm-blooded or cold-blooded, human or vampiric, families can come together.
Samberg: You should uphold the tradition of father-daughter dates on Halloween.
(Silence)
Samberg: No else did that? No one else did that?
That may not be a tradition. No.
Samberg: Sorry.
That may just be you.
Samberg: My dad used to dress me up like a girl ... and take me to the movies ... on Halloween?
Gomez: (Laughs)
Our on-camera chat with the cast of "Hotel Transylvania" can be found below: 
("Hotel Transylvania" opens in theaters today; want more Movies? Be sure to like MSN Movies on Facebook and follow @MSNMovies on Twitter.)