'Dumb And Dumber' Sequel To Be Titled 'Dumb And Dumber To'
Because that's obviously dumb, get it?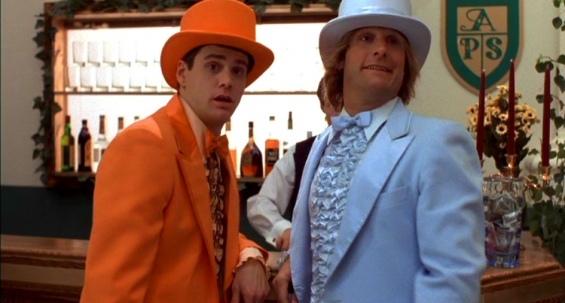 According to
The Hollywood Reporter
, crass toilet-humor auteurs Peter and Bobby Farrelly have confirmed, via their
Twitter account
, that the long-rumored "Dumb and Dumber" sequel
is
 indeed happening. Moreover, Jim Carrey
will
 be involved, contrary to earlier reports suggesting otherwise. Moreover moreover, the sequel—the script for which is still being written—will be titled "Dumb and Dumber To, " because typos are obviously funny, at least in this context.
As longtime fans of the Farrelly Bros., particularly of their less-heralded works like "Shallow Hal" and "Kingpin," we can only hope them luck in finishing the script and getting production underway before Carrey or co-star Jeff Daniels flakes out. Really, our expectations for a "Dumb and Dumber" sequel couldn't be lower, especially after the dire, execrable "Dumb and Dumberer: When Harry met Lloyd." All existing copies of which should probably be rounded up and shredded, for the benefit of the future of humanity. Still, all we really want from the film is a classic joke like "Extra gloves? You've had this pair of extra gloves this whole time??" "Yeah, we're in the Rockies," and maybe a good diarrhea scene. And we'll be happy.