Interview: Steve Carell and Keira Knightley of 'Seeking a Friend for the End of the World'
Darkness, comedy … and cake.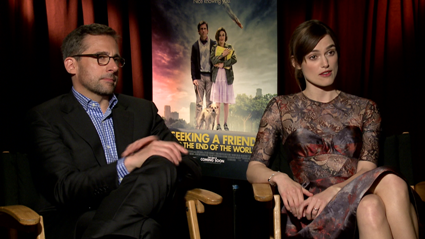 He's the warm-but-weird comedian whose style and co-conspirators seem to have taken over American comedy; she's best-known for classy British period pieces and elegantly cool acting. But in "Seeking a Friend at the End of the World," the gulf between the public perceptions of Steve Carell and Keira Knightley's personas is turned into the stuff of comedy, even as they become unlikely allies in the face of the apocalypse thanks to fate. We spoke with Carell and Knightley in Los Angeles.
Just to explain for people, in this film the world is coming to an end in a matter of weeks, and everybody knows it, and there's not thing that can be done about it. It's like this Woody Allen version of "Armageddon." When you were reading the script was that comedic take that we normally see on dramatic material part of the fun of, doing the film
Steve Carrell: I think so definitely. That's what appeared to me right off the bat.
Keira Knightley: Definitely. I think normally with a subject like this, you've already mentioned "Armageddon" … that is what you expect. You expect a kind of massive action movie, and I loved that this was a kind of very dark comedic take on that subject matter. I also loved the fact that I got to the end of the script and hopefully the film and actually it's incredibly moving, but its incredibly uplifting and very positive. I thought that was an extraordinary feet for the writer director, Lorene Scafaria, to have pulled off that you can make something so dark and yet be so funny.
You're recreating a time of great stress in these character's lives. How much of it was just, "Let's get the set. Let's get the actors, and go?" Was there a lot of deviating from the script?
Carrell: Not a lot. Honestly, the budget for this movie was fairly small, and our shooting schedule was tight. There wasn't a lot of time to just play around with dialogue, and the script itself I think is such a big factor. You didn't really need to do anything.
Ms. Knightley, I've read that one of the great pleasure for you doing a film where you're not in period wear is you just get dressed and up that much more swiftly.
Knightley: Yes, I get more sleep. It's lovely.
Are you deeply resentful, Mr. Carrell, that you haven't been asked to do any period pieces yet?
Carrell: You're assuming that I haven't been. You haven't seen my European work.
Nor have I seen your work as a Civil War general ...
Knightley: You would look great as a Civil War general.
Carrell: Would I?
Yes. You'd be like Ulysses Cary Grant.
(Carell laughs.)
In terms of this film, because it speaks to such a rich cultural tradition, what's each of your favorite end of the world movies, and your last meal? When you know its coming and you get to pick that last meal, what do you chow down on?
Carrell: I totally have these two answers. My favorite end of the world movie is "Dr. Strangelove." My last meal would be a Chicago deep-dish pizza, and I would eat the entire thing.
The logic being that you're getting ready to go anyhow. Your cholesterol number is now fairly irrelevant.
Carrell: Yeah, "Oh, whoops. I'm going to die? My arteries are hardening, whoopsy."
Ms. Knightley is now going to shame us by having a kale salad as her final meal.
Knightley: No, I would get s**tfaced. Yes, I love kale. I love kale, steamed, no butter,  thank you. No, I'm trying to think now, because you came up with "Dr. Strange Love," and I think that's slightly ultimate. "Last Night."
The 1998 Don McKellar film, which is amazing.
Knightley: Amazing. So I think because he's already said, "Dr. Strangelove," I'm going to go for "Last Night." 
Your final meal?
Knightley: My final meal would be something very pasta-y. Probably it's like a tomato, pesto, basil, really great parmesan on top, an amazing glass of wine. What would you have for desert?
Carrell: Oh, maybe a cake.
Knightley: Oh, we could have a massive chocolate cake …
("Seeking a Friend for the End of the World" opens today ….)