Director David R. Ellis passes away at 60
The stuntman-turned-helmer's credits ranged from 'Scarface' to the 'Final Destination' franchise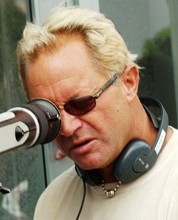 Pauline Kael famously wrote that "movies are so rarely great art that, if we cannot appreciate great trash, we have very little reason to be interested in them." To that end, while not every film in David R. Ellis' considerable filmography was great trash, the man knew his way around many a B-movie and did stuntwork in countless other films before taking the director's chair. Sadly, Ellis was found dead last Monday in his Johannesburg hotel room.
Ellis was initially a junior pro surfer before he made the leap to filmmaking, serving as stunt driver, double and coordinator on projects ranging from both "Smokey and the Bandit" films to 1983's "Scarface" and 1985's "To Live and Die in L.A.," the original "Lethal Weapon" to "Days of Thunder." He logically progressed into second unit directing ("Patriot Games," "Master and Commander: The Far Side of the World," "The Matrix Reloaded"), though his own directorial career got off to an inauspicious start with 1996's "Homeward Bound 2: Lost in San Francisco."
However, with 2003's "Final Destination 2," he had clearly found the series that would suit his expertise, forever leaving his mark with the harrowing highway pile-up with which the film opens. (He would later return to helm 2009's "The Final Destination.") Ellis followed that up with the underrated 2004 thriller "Cellular" and most notably directed 2006's "Snakes on a Plane."
With last year's gloriously stupid "Shark Night" ultimately serving as his swan song, the man leaves behind a movie career defined by qualities that we all too often take for granted in this industry: cool stunts and cheap thrills. He will be missed.