TIFF Review: 'Cloud Atlas'
Uneven, unprecedented and ultimately moving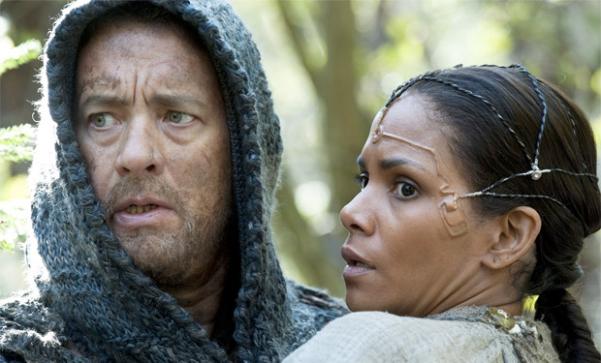 Rating: 4/5

Adapting David Mitchell's symphonic novel "Cloud Atlas," co-directors Andy Wachowski, Lana Wachowski and Tom Tykwer have taken on an exacting and exhausting challenge; Mitchell's book leaps between eras and sets of characters and, at the same time, connects them all -- thematically, spiritually -- with resonances and connections among and between. 
It's got an all-star cast and a tremendous amount of action to be sure, and is in that fashion completely part of Hollywood as we know it -- and, at the same time, it is so full of passion and heart and empathy that it feels completely unlike any other modern film in its range either measured through scope of budget or sweep of action. It is an epic film, costing hundreds of millions of dollars, and at the same time it's about moral choice and moral action in the face of amoral power and amoral cruelty, a laser-blasting and knife-fighting saga about how, with struggle and sacrifice, the workings of the world can turn, slowly, towards something like justice and something like peace, and just because we may not live to see them does not mean we should give up. 
Bing: Lana and Andy Wachowski | 'Cloud Atlas'
The film leaps between times -- an ocean-going expedition to conduct the legal transactions of slavery during the Victorian era, a volatile relationship between a composer and his apprentice in the '30s, a reporter's investigation of a nuclear plant in '73, a comedy of errors for a publisher exiled against his will to a nursing home, a near-future struggle between the haves and have-nots of a radically different Korea and the search for long-lost knowledge in what's left of Hawaii long after 'The Fall.'

The tones of these segments vary wildly and vary well; for those who object that this kind of genre-jumping seems confusing or overly ambitious, let it be pointed out that most people's lives do not, in fact, fit comfortably into one genre. Or, for another counter-argument, no one who sees "Cloud Atlas" will sigh "God, not another sci-fi/farce/romance​/thriller/survival/a​ge of sail saga. …" Many will suggest that "Cloud Atlas"'s philosophical points -- that love is better than hate, life better than death, freedom better than slavery, art better than censorship -- will strike too many as empty platitudes we all accept as true. But if that's the case, why is our world in the state it's in?

Apparently the breakthrough that the Wachowskis and Tykwer had in their preparation was to have the film's cast take multiple roles throughout the film; a ship's doctor at sea is a blackmailing hotel clerk is a nuclear scientist is a thug-turned-author is a father in the cooling ashes of the apocalypse. It's a meditation on the connectedness of all things, and small ripples becoming waves, and at the same time there's plenty of peril and action and fast-cuts and comedy. And when you watch, say, Tom Hanks throw himself into all the iterations named above, for but one example, it's a demonstration of both talent and daring on the part of every performer. Some of the make-up, it should be noted, does not work -- an artificially aged Hugh Grant looks like he's wearing a mask of unbaked Pillsbury Crescent Rolls -- and some of it does, and some of it works precisely because it does not, like an actress putting in contacts and makeup and dying her hair to play a woman of standing and privilege in an age when no woman of her race would have had that standing and privilege, and we are less thrown out of the film's world than we are inspired to think of our own.

Another of MSN's film critics will review "Cloud Atlas" at greater length (and, if I might be pardoned for suggesting so, after greater length of contemplation) when it's released later in the year. But after being buffeted and battered by the era-hopping nature of the film last night, I still found the pieces and shards harmonizing with each other even beyond how the film fades, say, horse hooves into train wheels to connect them. And even a day of time -- to step back, and look at every bright-glittering shard in the film's mosaic to see and contemplate the larger picture it seems to make (even with some off colors and too-sharp edges) -- rewarded me for doing so. And the finale -- sad, true, having travelled far but with still so far to go -- is unexpectedly, startlingly moving and emotional. For fans of all three filmmakers, who've been waiting for "Cloud Atlas," the question has been if the wait is worth it. And just on the grounds of ambition and ethos, it most definitely is. Most hundred-plus million-dollar films want to inspire you to buy the toy, get the game, read the comic and change your purchasing habits; "Cloud Atlas" wants to send you out of the theater inspired to do real work for real change. If that's a 'messy failure,' then let us hope Hollywood's other directing titans are foolish enough to put bold big ideas in their films to finally go with the big budgets and big effects to give us even more of such fascinating, breathtaking and captivating errors.
("Cloud Atlas" will hit theaters on Oct. 26; are you curious about this brain-bender? Let us know at MSN Movies Facebook and follow MSN Movies Twitter.)