Marc Webb, Andrew Garfield to Return for 'Amazing Spider-Man 2'
Thus bucking all recent trends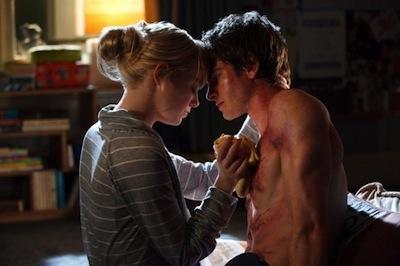 If there's one involatile rule in Hollywood, it's that every successful movie absolutely
must
get a sequel, no matter how crude, crass, shameless, or unnecessary. Lately, however, that rule has led to a lot of fuss and bother, as studios have been placing strict guidelines on their franchise's budgets and schedules. Once popular directors—such as Gary Ross, Rupert Wyatt, and Rupert Sanders—are flung aside in favor of cheaper, easier-to-control alternatives. At least, that's the way it's been with "The Hunger Games," "Rise of the Planet of the Apes," and "Snow White and the Huntsman."
Fans of "The Amazing Spider-Man" can rest easy, however, as, according to
The Hollywood Reporter
, both star Andrew Garfield and director Marc Webb have agreed to return for its inevitable sequel. Co-star Emma Stone is reportedly also in negotiations to return, even if her character—mild spoiler alert here, for anyone who hasn't read the source comics or seen the original, Sam Raimi-directed "Spider Man" trilogy—will probably, well, die. (Thus paving the way for Parker to meet and fall in love with everybody's favorite
girl-next-door/redhe​ad/waitress/relative​ly
unsuccessful Broadway actress, Mary Jane Watson, in "The Amazing Spider-Man 3.")
What do you think, Hitlisters? Excited that both Garfield and Webb will return? Furious about the reality of Peter Parker and Gwen Stacey's probably doomed relationship? Astonished to discover that, at least in the comics, Peter Parker actually
marries
 Mary Jane, who is—lest we forget—actually a completely different person? As always, let us know in the comments, or tell us on MSN Movies 
Facebook
 and MSN Movies 
Twitter
.