Trailer for 'Black Rock': And you thought your family camping trips were bad
A new thriller from indie couple Mark Duplass and Katie Aselton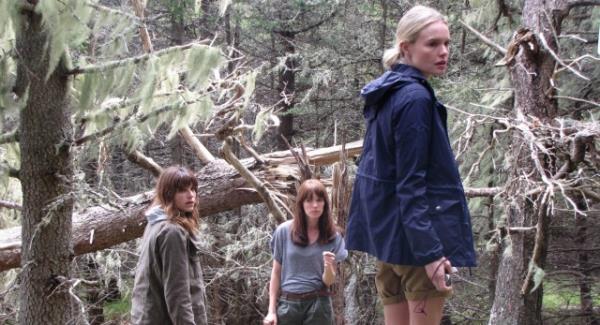 Fans of indie film will surely recognize the names "Mark Duplass" and "Katie Aselton" - the married couple often work together on projects (they currently co-star on FX's television series "The League") and their films frequently pop up on the festival circuit (Duplass and his brother Jay first broke into the film world with their Sundance film, "The Puffy Chair," which also starred Aselton) - but their latest collaboration might surprise. Whereas Duplass is known for quirky, family-centric films that he makes with Jay, and Aselton has primarily worked as an actress (though her first directorial outing, "The Freebie," is a winner worth seeking out ASAP), their new film, "Black Rock," is a gritty little thriller about a camping trip gone seriously awry.
Penned by Duplass and directed by Aselton, the film stars Aselton, Lake Bell, and Kate Bosworth as a set of former best friends seeking to rekindle their friendships (and heal some pretty serious past wounds) by way of a girls-only camping trip on a remote island. The island holds a special place in the girls' hearts - it's been the home of many fun trips in the past, and their hope is that those memories will spark a renewal of affection between the three.
But renewed affection is the least of trio's worries, once they discover they're not alone on the island. A standard-sounding plotline, to be sure, but "Black Rock" isn't about scares and terrors, it's much more focused on interpersonal relationships and the power of a person's will to live. But it would be a mistake to pretend that things don't get bloody and brutal during its quick-fire runtime.
The film premiered at Sundance in January and, back then, I 
wrote that the film
 "is refreshingly free of jump scares and cheap tricks, and it's given to more realism than we're used to with standard horror flicks (particularly when it comes to the film's fight scenes). The film ends up being an economical and thought-provoking relationship drama that just happens to be framed up as a horror outing." Get a look at the film's first trailer, thanks to 
Yahoo! Movies
, after the break. 
"Black Rock" opens on May 17, 2013.