Movie Marketing You May Have Missed: Trailer for 'The Bay'
From director Barry Levinson - no, really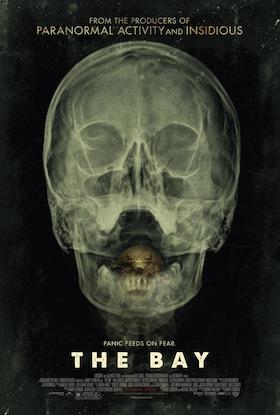 Movie-going audiences don't typically expect their found footage thrills to come care of big name, Academy Award-winning directors who've previously made films like "Diner," "Rain Man," or "Bugsy," but such is the case when it comes to Barry Levinson's "The Bay," yet another entry into the ostensible horror genre. While the vast majority of recent found footage films are led by relative newbies when it comes to the movie-making game (after all, with slim budgets and no real need for named stars, why wouldn't they?), Levinson has already proven himself as a director, and this foray into FF looks to be his attempt at a second act. Really, "Good Morning, Vietnam" this is not.
From the producers of "Paranormal Activity" and "Insidious" (because of course), "The Bay" presents us with the curious case of Claridge, Maryland. In July of 2009, something happened in sleepy little Claridge, something so insidious (forgive me) that the U.S. government confiscated all video footage of the incident and hid it from the public. But now that footage is out, and it's filled with evidence that something far beyond the norm befall Claridge on the Fourth of July holiday. Dead fish? Dirty water? People dropping dead? Panic, fear, terror? And more, much more (including, if we're not mistaking, an implication or two of some zombie-fication). 
As uninspired as that plotline might sound, the first trailer for "The Bay" does hint at some nice visual effects, at least a handful of interesting shots, and a nice mix of different types of footage (never fear, "The Bay" isn't just made up of footage from one character's shakily-held camera). Perhaps this just might be a nice second career wind for Levinson.
Check out the first trailer for "The Bay," thanks to
Apple
, after the break.
"The Bay" opens in theaters (and will be available on iTunes!) on November 2.