Sundance Review: 'Upstream Color'
'Primer' auteur Shane Carruth returns with a bizarre, breathtaking, beautiful and brain-bending ... love story.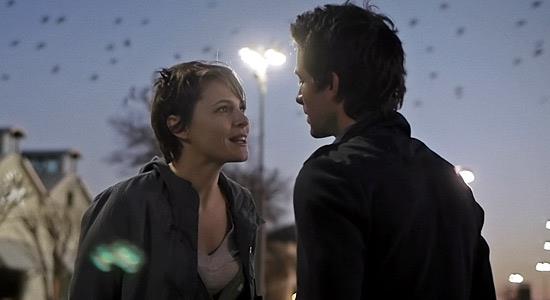 Rating: 5/5

Nine years after his low-budget, big-ideas time-travel movie "Primer" (which is, it must be said, far more than just a time-travel story), writer-director-acto​r Shane Carruth returns to Sundance with "Upstream Color," his long-awaited follow-up. Like "Primer," it's full of big bold ideas that demand, and reward, close and careful viewing and contemplation; like "Primer," it's also full of moments that work in the moment, startling you with their invention or oddness or depth of feeling. If your idea of science fiction is flat characters in metal spaceships pointing ray guns or talking big rig robots, "Upstream Color" will confound you. If you open your perspective a little -- and your feelings a lot -- then it works as a singular achievement on par with, and in the same mold as, Tarkovsky's "Solaris" or "Stalker" -- a story that uses speculative ideas and para-scientific plot points to not only tell a delicate, fascinating love story but also to inspire you to re-think your story of what love means and how it works.
A discovery -- not in a lab, but in the wild, and perhaps not of a new phenomenon but an ancient one -- offers the few who understand it the chance to make psychic links of feeling, thought and action between two people. As William Gibson noted sagely in "Neuromancer," however, the street will find its own uses for things. A modification to the discovery enables one man, referred to only as "The Thief" (Thiago Martins) to control others, with elegantly cool phrasing that makes them bend to his will as he destroys their lives and bodies. And we watch him do so to Kris (Amy Seimetz), a successful woman whose world is destroyed with her absolute and unconscious complicity, left for dead when spent. She is found by a sound, a sound crafted by "The Sampler" (Andrew Sensenig), who also seems to understand the same secrets as The Thief, and can, at great cost, undo but not repair what he does to the bodies and minds of his victims. (The twin existential terrors of life -- brutal control or the brutality of liberation from control -- run throughout the film.) Afterwards, in ruined circumstance and sad isolation, Kris draws the eye and attentions of Jeff (Carruth), with a bond that's part curse and part blessing. They find happiness. They have to fight to keep it.
BING: 'Primer' l 'Invasion of the Body Snatchers' (1978)
For all of its sci-fi strangeness -- and let it be noted that "Upstream Color" is very strange, and I'd bet money that Carruth has watched the opening credits to the 1978 "Invasion of the Body Snatchers" more than a few times, and also appreciates that film's brilliant sound design by Ben Burtt -- "Upstream Color" is a love story, one that unfolds with delicacy and real feeling. Both Kris and Jeff have pasts they can't understand, pasts where they didn't have control of their lives, pasts with pain that left them ruined. Their circumstance may be different thanks to the meat-and-blood metaphysics of Carruth's plot mechanics, but, at heart, isn't that what love is like for all of us, the hope of redemption mixed with the fear of rejection? A brave, daring thing that requires our best selves? Life, as Hemingway noted, breaks everyone, but some are strong in the broken places. Kris and Jeff's scars may have a strange recursive mirror symmetry in Carruth's vision, but their broken places become stronger as they help each other understand their wounds and fears and doubts well enough to move beyond them. The films' references to Thoreau and "Walden" are a nice connection to the idea that self-reliance is important - and, ironically, often finally found through the love of another. 
Carruth is self-releasing his film; "Primer"'s release was so botched by Think Film you can understand his determination, but a vision this singular and sympathetic, this handmade and humane, is the antithesis of the "Will it play in (the art house theater) in Peoria?" blinders that damage independent film as much as they unfortunately define it. Carruth also wrote the film's distinctive music, served as cinematographer and co-edited with David Lowery. The performances are excellent, with silence speaking volumes and words both elegantly filigreed with deep meaning and as direct as a stab to the heart. Carruth had to wait 9 years to get his second film made, never mind to Sundance; "Upstream Color" makes it clear that that's our loss, not his.  
Want more Movies? Be sure to like MSN Movies Facebook and follow MSN Movies Twitter. 

Are you sure you want to delete this comment?