Fox Hires Screenwriter For 'Daredevil' Reboot
Because some ideas—even bad ones—never die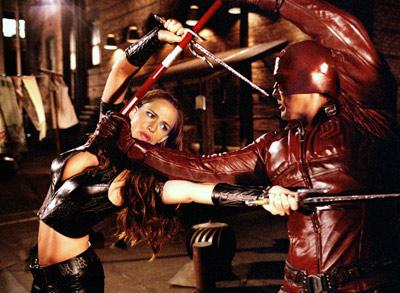 Except for "Elektra," its ill-fated spin-off, "Daredevil" was arguably the low-water point for superhero movies. Beyond introducing Ben Affleck to Jennifer Garner, seemingly the only positive outcome of the movie was... No, wait, we've got nothing. Colin Farrell
was
 entertainingly awful in it, though...
Still, superhero movies are hot right now. And Daredevil is—besides Spider-Man (Sony) and the X-Men (Fox)—one of the only Marvel characters not owned by Marvel Studios itself. Which means Fox can still try to make money off that sucker, even if nobody wants them to. Accordingly, Fox has hired screenwriter David James Kelly to rewrite (!) the potential reboot for director David Slade ("Twilight: Eclipse," "30 Days of Night").
Is a "Daredevil" reboot a good idea? Or is the premise of a blind superhero whose only super power is that he can actually see (but in sonar!) just, somehow, stupid, and not suited for cinematic adaptation? (The "sonar" scenes in the first film were laughably bad. Not Collin Farrell-bad. Worse than that.) Who could or should play the titular hero? And is there any way for a self-respecting man to wear a skin-tight red leather cat suit and look dignified? Sure, it works in the comics. But in the "real life" of movies? More details as they become available...

I apparently am in the minority or just very easily entertained. I didn't mind Ben or Colin being in the movie, I didn't think they were that bad but I can do without the romantic interest they had with Jennifer Garner, the playground fight? scene makes me wince. I liked this movie. I agree about putting Chris Evans in, but just how many superheroes can he play? lol, how about Chris Pine? With all the superheroes that are in the Marvel/DC world why are they working on reboots? Why not give us one that hasn't been done yet?
I didn't think that the original was all that bad. It wasn't spectacular, but it could have been worse. Yes Affleck was unusually awful in it. As was Ferrell. But Jon Favreau was a brilliant bumbling Foggy Nelson, and I doubt that there are many more actors who could deliver the intimidating presence of Michael Clarke Duncan, at least on a quality level. At least the movie wasn't as bad as the Green Hornet or the Green Lantern.
I like Chris Evans, but I'm wanting Marvel to do their best to move in a direction of a series of Civil War movies. An impossible dream I know, but one that would be worth dreaming for. If Evans played Daredevil then he'd have to play either him or Cap in my wishlist Civil War movie.
What about Ryan McPartlin
http://www.imdb.com/​name/nm0574131/
Captain Awesome from Chuck. He's physically fit enough. Or maybe Jensen Ackles from Supernatural.
If ANYONE attached to Twilight has ANYTHING to do with this movie, I will boycott it. That's nearing the level of George Lucas wanting to put some of the Backstreet Boys into Attack of the Clones! I loved Jen Garner in it, but HATED Ben Affleck. I never could stand that douche.

I say put Chris Evans in it as Daredevil. He's already been Human Torch and Captain America. Why not put him in the lead for another Marvel hero movie? Seriously though, even Toby Maguire would make a better DD than Affleck. (And that ain't saying much!)


Are you sure you want to delete this comment?