Videodrone's Streams and Channels: John Huston's 'Let There Be Light'
The landmark World War II documentary has been restored by the NFPF and made available for free streaming through August
By 
SeanAx
 May 24, 2012 11:02AM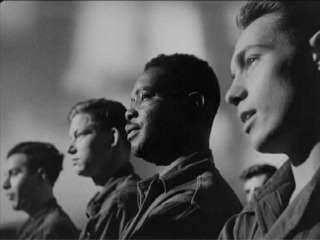 "Let There Be Light" (1946), the third of three documentaries directed by John Huston for the US Army Signal Corps in World War II, isn't about battle. At least not the kind of battle conducted with guns and bombs.
This hour-long film took cameras to Mason General Hospital on Long Island, a racially integrated psychiatric hospital where soldiers suffering from psychologically scars underwent treatment. It was the first film to explore post-traumatic stress disorder (PTSD), before it was ever given that name, and attempt to share the difficulty of soldiers returning from combat to civilian life with the public.
That was not to be. The film was suppressed by the military brass. Not because it was inaccurate or insensitive, mind you, but because the portrait was too frank and too sensitive. And maybe for other reasons. It showed that integrated military life was not only possible but could be conflict free, at a time when the rest of the military was still segregated. It showed how vulnerable humans were to the psychological trauma of war. And for all the healing shown in the film, a shadow of the nightmares never quite leaves the lives of these soldiers.
The film was banned for decades, until 1980, when it received its first public screening. It was added to the Library of Congress's National Film Registry in 2010. 
Now it has been restored, with a new soundtrack donated by Chace Audio by Deluxe through the NFPF grant program, and is available for free via streaming video from the NFPF website, sponsored by Fandor.com, a web showcase for independent films and documentaries from around the world.
Visit the National Film Preservation Foundation website here for access to the film and information on the project, or go directly to the "Let There Be Light" page here.