Interview: Greta Gerwig of 'To Rome with Love'
'I think the biggest thing for me is it seems like a miracle every time I get a movie ...'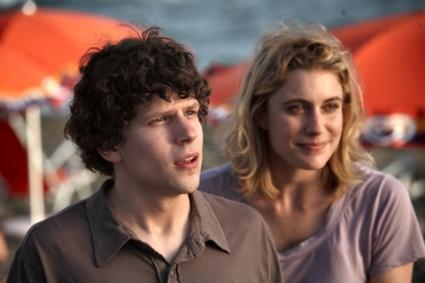 With her complicated smile, blonde hair and thoughtfully expressive face, Greta Gerwig has become a go-to woman for directors looking for the right mix of vulnerability, strength and comedic skill. In Woody Allen's "To Rome with Love," Gerwig plays the fiancée of Jesse Eisenberg -- who also has her best friend Ellen Page drop in, and Eisenberg's bonding with Page complicating everyone's relationships. We spoke with the actress in Los Angeles about work, working for years to become an overnight sensation and the joys of gelato.
MSN Movies: You've been working for so long in indie film; is it nice to finally see the payoff?
Greta Gerwig: Yeah, it's incredible. I feel very grateful, but I also feel like I'm actually able to enjoy it. Not that you ever actually earn anything -- so much of it is luck -- but I feel like I've put in my time a little bit. I've been working on movies for six years, and now everyone's like, "Oh, you're the new thing." I'm like "Am I that new? I feel old."
Hollywood is the only realm of endeavor where after six years of work you can become an overnight success.
I know, it's true. One of the exciting things is that me and Mark Duplass and Lena Dunham, I knew all them. We all worked together before anyone achieved any success at all, so watching everyone be accepted and talked about as part of culture is amazing. It feels like we were all in the trenches.
When Woody Allen calls you up and says, "I'd really like you to read for a part in my film," how completely bizarre is that?
It was amazing. I couldn't believe that I got to meet him. I couldn't even believe that I got to actually audition in front of him. The whole thing just seems like -- I didn't really believe that any of it had happened until last night when I saw it. Then I was like, "Okay you're actually in it. You made it. It's real."
You can see yourself sixty feet tall on the screen with an audience of eight hundred people. This is not a hallucination.
Although it is really traumatic to watch yourself on screen, I have to say.                           
Does the lather, rinse, repeat effect of it -- because you're watching rushes, you're watching promo stuff, your watching clips when you're doing live TV -- does it make you feel incredibly neurotic? Are you working on reversing that?
I try to really not look at anything or absorb anything in that way. I watched the movie, but I think I don't like to be in the echo chamber of what is produced in the media, because I think that can make you go crazy if you can hear the clips or the sound bites or hear yourself talking or you give interviews. It all seems like that can all just drive you batty. It's best to try to stay away from all of that.
And it's completely separate from the job of showing up on set, hitting your mark and saying your line?
Right. It's totally separate from that. Also I really think it's a form of insanity. You can make yourself crazy. I think that's true whether you're in film or not. There are a lot of opportunities for echo chambers at this moment of Facebook and everything else. You get to be the star of your own show and the ultimate lawyer at the same time.
It's an era of constant communication, but not necessarily an era of constant comprehension?
No. I mean, I don't want to sound like I'm a technophobe; I love iPhones and I love computers, and think there's lots of amazing things about the ability to control the discourse of media. Twitter in the Middle East, that's amazing, or being able to connect directly with people, but I do think for somebody who's an actor it can become quite the exercise of narcissism.
There's a difference between the revolution in Tahrir Square being empowered by Twitter and if hypothetically somebody showed up outside of that window and took pictures of you. That would be terrifying.
Well, if that happened and then I looked at it on my phone and tried to find it, that would be so weird. That's when you're getting into -- I think you're just voluntarily going crazy.
Into the Hall of Mirrors, and nothing but reflection.
Into the Hall of Mirrors. That's terrifying. I can't do that.
I was just speaking with Ms. Pill upstairs, and I'm curious, when your taking direction from Woody Allen, when you're working with Woody Allen, how much is being super focused, super present, super aware for the scene work and how much of you is grooving on listening to Woody Allen speak the way Woody Allen does?
A lot is just being excited that it's Woody Allen and that he's saying things that sound like Woody Allen and he's saying them to you. It all feels very surreal and like something you've imagined. I think it took me a full day to get over the fact that he was talking to me and that he remembered my name.
He did cast you in a film, however, so you would like to think he remembered your name.
Right, but I thought he seemed so important, I'll just do my best. But then he's like, "Greta I want you to do --" and I'm like "Oh my Gosh." I never thought Woody Allen would be saying my name.
Does it feel like a very long a steep slope from having Ti West shoot you dead in "The House of the Devil?"
Well, I actually saw Ti West at the party last night. He came. It was so sweet. I love Ti. In some ways yes, and in other ways I loved making that movie and I loved making "To Rome with Love." To me it's definitely grown in scope, but just getting to make movies is really exciting.
That's sort of a mental identification of you, as someone from New York.
Yeah, but I'm not.
You're not?
I grew up in California. I grew up in Sacramento. I moved to New York for college. I'm a total fraud. I'm not a cool downtown kid at all. That's what everybody thinks, but that's not true. Maybe people don't think that, but my agent once told me that was true. My agent said, "Oh, everybody thinks you're such a New Yorker." I said, "No, I'm not. I'm a cowtown girl."
Yes, but unless you're from that tribe of Indians who sold the island for like twenty-six blankets, everyone in New York is an outsider.
That is the truth about New York. They're a city of people who didn't fit other places.
When you find out, "Oh my God, I'm working for Woody Allen's dream film, but he's not shooting in New York," was that a little bit of a "Hmm?"
Well, sure, part of me had a bit of a "God, I wish it was in New York," but being part of his European phase, I guess we can call it, is pretty amazing as well. Getting to spend the summer in Rome is not bad.
What was the best thing you did for yourself in Rome, and what was the best meal you ate in Rome?
I just ate so much. I ate so much in Rome. It was so nice. Luckily all my costumes were loose fitting, so I didn't feel particular pressure. I obviously wear a dress, but I was wearing all of these flowy pants, and I was just like "I'm just going to eat pasta until we leave." So I ate pasta and gelato every single day, which was amazing. There's this one (gelato stand), I forget the name, but it was like a forty-minute walk from the hotel. I used to walk there just to get the gelato and come back, but I figured if I walk the full hour and a half that makes up for the gelato a little bit. I'm back to neutral and I've had gelato.
A favorite flavor?
They would always combine flavors. I had the really dark chocolate and … it's like a nut flavor. Its sort of an almond flavor, but what's interesting is the flavors are distinct, but it's more about the richness and the texture more. Its not like Ben and Jerry's here where it's like a crazy flavor explosion. It's almost not as sweet as the ice cream here, but it's richer.
What was the biggest touristy thing you did?
Me and Jesse our first day there went to see the Coliseum. It was really fun. We just thought, "All right lets go," and it was fun. A lot of people recognized Jesse, which was
Did you learn the Italian for "Social Network," because so many people were saying it?
Yeah, so many people. It was close to when "Thirty Minutes or Less" was coming out, and a lot of people were like, "I'm really excited for that." It was really fun to go to the coliseum and do that and be touristy. I got to see the David, which I'd never seen, which made me cry. Which made me feel really cheesy, but it really did make me cry. It's a beautiful, amazing, astounding work of art.
I was talking to Ms. Pill upstairs, and she admitted, that a perfect Woody Allen film would be one where he's playing every part, because the lines are in that distinct comedy cadence of his.
Right it's true.
But it's not just his cadence or his diction as a writer, it's his cadence and diction as a person. Are there moments where you have lines where you're like, "That's not quite what a lady in my circumstance would say?"
So many lines like that. There was one line that to me sounded like a Diane Keaton line. I think sometimes his lines for women sound like Diane Keaton. I had a line that I say, "But she's the one. She's always been the one," which just sounds like something Diane Keaton would say in "Annie Hall." "She's the one. She's always the one" with that way of her speaking. It doesn't sound like anything modern at all, and it just sounds particular to her. I think maybe the ideal Woody Allen movie is he does all the male parts and she does all the female parts, and Judy Davis can do some other parts.
What was your best day on set?
My birthday. I turned twenty-eight on set. I went to lunch with my group, my Alec and Jesse and Ellen and our driver Spartacus. We all went out for birthday lunch.
Spartacus is his actual name, not a nickname?
Nope, his actual name was Spartacus.
Did you giggle hysterically when he said, "Hi, my name is Spartacus."
No, I just thought it was very sweet. He did acknowledge it was actually an unusual name. I think the last two birthdays I've had -- my twenty-seventh birthday I was with Helen Mirren on the set of "Arthur" and my twenty-eighth birthday was with Woody Allen, so we'll see what twenty-nine holds this year.
You recently had "Lola Versus" open. When the co-writers and directors said, "We don't feel like this film got a fair shake, because of the predominance of male film critics," is that something you don't even listen to or you don't even know about?
I didn't even know they said that. When did they say that?
About a week ago when it opened.
The producer said that?
The director and co-writer.
Oh. I didn't know they said that. I don't think that's true. Am I allowed to say that? I think men and women are equally capable of judging what they like or don't like, and I think it's a gender bias to say that men wouldn't like something about a girl. For all I know, again I don't know. I try not to read any reviews or look at anything, so I have no idea what the discussion is until someone says something like that. Then I go that's what's being discussed about that thing. I get very self-conscious when I read stuff, so I don't like to.
Are you worried that you're going to hit a point in your career where it sort of moves -- movie star careers are like sharks, if they don't keep moving they die. Are you afraid that one day you'll be asked to play the sassy FBI agent who runs down the street yelling, "No?"
Yeah, I am. I hope I get to play a sassy FBI agent. I don't anybody sees me as a sassy FBI agent holding a gun, and that would be super fun. I think the biggest thing for me is it seems like a miracle every time I get a movie. I think all actors are convinced that every job is their last. It seems a further miracle when that movie is one people really admire, and it feels like both an amazing job, but also fulfilling. I think it's a lot to ask of a job, that it be fulfilling and interesting, and financially rewarding all at the same time. When those things come together it feels like you've won the life lottery. I'm always terrified that I'll never work again, but more than anything I'm just grateful I've worked as much as I have. If this is the last thing I ever do, I've had a great awesome life. I hope that's not like a death wish.  I don't want that. I would like to keep going, but I don't want to undersell what's already happened.
("To Rome with Love" opens today.)