Oprah Lights Up in New Still from 'The Butler'
Winfrey has a plum role in Lee Daniels' film about the long-time White House butler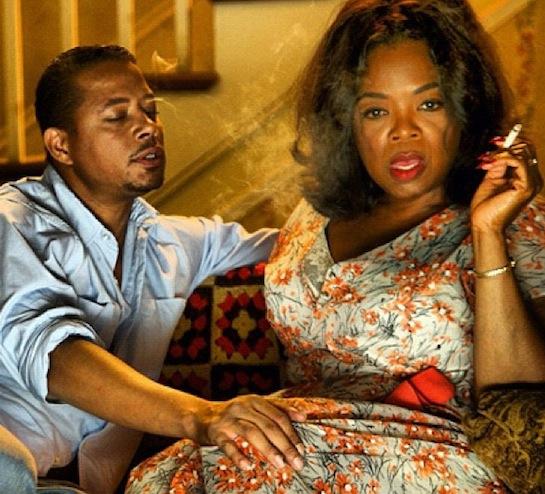 Oprah Winfrey, who hasn't appeared in a film since 1998's "Beloved," must have had a ball on the set of "The Butler," the upcoming movie based on the real-life story of Eugene Allen, the White House butler who served eight U.S. presidents. Director Lee Daniels ("Precious") is currently wrapping up production on the film, which features Oscar winner Forest Whitaker as Allen, along with a cavalcade of stars chewing up the scenery as our country's former leaders. That celebrated list includes Robin Williams as Dwight D. Eisenhower, James Marsden as John F. Kennedy, Liev Schreiber as Lyndon Johnson, John Cusack as Richard Nixon, and Alan Rickman and Jane Fonda as the Reagans.
It's not clear what role Terrence Howard plays in the film but Oprah recently used the popular Instagram app to post the above photo showing her character and Howard's in a potentially compromising position. Is it a misleading teaser or does Oprah get to do a steamy scene with the Oscar-nominated star? Either way, you can bet she had a great time shedding her well respected image as a talk show queen and entrepreneur to play what looks like a very fun part.
Bing: Oprah Winfrey | Lee Daniels
The Weinstein Company recently picked up the U.S. Rights to "The Butler." Director Lee Daniels' current film, "The Paperboy," starring Nicole Kidman, Zac Efron, and Matthew McConaughey, opens this Friday.