Starlets Reportedly Testing for Carly Simon and Carole King Roles in 'Girls Like Us'
Adapted from Sheila Weller's book of the same name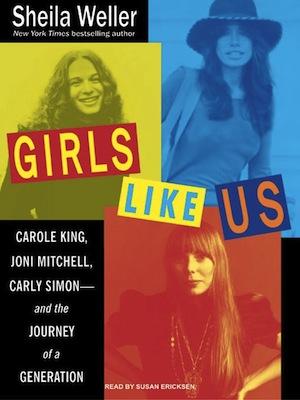 For fans who still cherish the golden age of
singer/songwriter-in​fluenced
American rock and roll and folk music that was the 1970's, the news (reported earlier this year, and reportedly sill true) that Taylor Swift is set to play Joni Mitchell in Sony's upcoming adaptation of Sheila Weller's non-fiction book, "Girls Like Us," has to hurt. Yet, if a new report is to be believed, the film's other two leading roles, Carly Simon and Carole King, might just be cast with some far more suitable (and exciting) talents.
Variety
reports on a list of rising stars who are in line to start testing for the Simon and King roles. On the Simon list? Allison Williams, Jessica Pare, and Analeigh Tipton. Williams and Pare are both recognizable for their roles on hot television shows - Williams is a lead on "Girls" and Pare has risen to prominence with her work on "Mad Men." Tipton recently starred in "Crazy. Stupid. Love." and "Damsels in Distress." When it comes to the King contenders, the outlet reports that actresses like Alison Pill, Olivia Thirlby, Ari Graynor, and Zoe Kazan are on the testing list. 
The film has not yet been greenlit, but its source material is compelling stuff and all three of its subjects are more than deserving of a first class feature treatment. While Variety notes that, "with a project like 'Girls Like Us,' chemistry between the three leads is crucial," Weller's book is not focused on the three as a group or as friends (mainly because they were not really either thing), but is divided up in individual sections for each singer-songwriter. Weller's work finds links and ties between the three and their struggles to come up in the music industry, but it's essentially three books for the price of one. It will be interesting to see how director Katie Jacobs and screenwriter John Sayles will tie the stories together on screen. 
Our picks for the roles? Well, first of all, the Swift-as-Mitchell casting still stings and, would things be right in the world, the country cutie would be sent packing and someone new could take her place. What about Schuyler Fisk? As for our favorites from the reported list of picks, Tipton and Pill are first in our minds, with Williams and Kazan coming in second for their respective potential roles, though Graynor is also an interesting King pick.
"Girls Like Us" is still in pre-production, and will likely hit theaters by the end of 2013 at the very earliest.