'ExpendaBelles' to Be Second All-Female Action Extravaganza on the Market
Because nothing's better for one twice-tapped nostalgia notion than a twice-over gender swap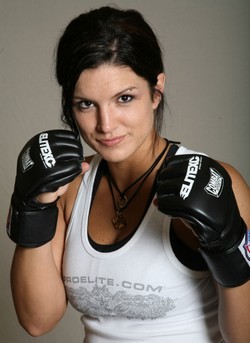 Stick with me here. Millennium Entertainment originally co-produced 2010's "The Expendables" before following it up with this summer's sequel. In between the two, it seemed like something of a joke/inevitability that an all-female equivalent should be spawned if no ladies were going to be invited into Sly Stallone's little boys' club (even if Nan Yu technically joined the ranks this time around).
Well,
one such project
was already underway, complete with Gina Carano ("Haywire") and Katee Sackhoff attached, by the time Millennium decided that they might as well get in on the action. According to
Deadline
, writers Karen McCullah Lutz and Kirsten Smith ("Legally Blonde," "The House Bunny") have been hired to pen the too aptly-titled rival project, "ExpendaBelles."
The chief question is: which working action heroines end up in which project before one can beat the other to theaters? Milla Jovovich? Kate Beckinsale? Michelle Rodriguez? Lucy Liu? As Deadline mentioned, Sigourney Weaver? Hell, what's Linda Hamilton up to these days? Assuming that Jennifer Lawrence is out of everyone's price range, what cast of kick-butt femmes would sell your ticket for either version of "The XX-pendables"?
Are you sure you want to delete this comment?