Robin Williams, James Marsden to Play Dead Presidents in Lee Daniels' 'The Butler'
The latter replaces Matthew McConaughey in this ensemble drama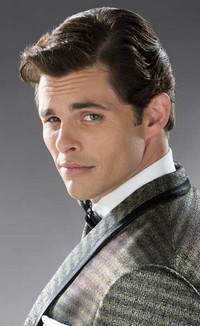 If you've never seen "Shadowboxer," then you're missing out on a particularly ripe hitman melodrama starring Helen Mirren, Cuba Gooding Jr., Joseph Gordon-Levitt, Mo'Nique, and others. Director Lee Daniels followed that up with the much more acclaimed "Precious: Based on the Novel 'Push' by Sapphire," only to return to Cannes this year with the
roundly mocked
"The Paperboy" (a.k.a. the one in which a white-trash Nicole Kidman defends her right to urinate on Zac Efron's jellyfish wound).
Clearly, this three-film bell curve of quality hasn't stopped him from casting the names he needs to get his next film financed. Production on "The Butler" begins this month, and while "The Paperboy's" Matthew McConaughey has since dropped out of the period drama,
The Playlist
reports that James Marsden has come on board to replace him in the role of John F. Kennedy. (The film concerns Eugene Allen, actual White House butler to eight different American Presidents.)
Anyone who's seen Marsden's square jaw knows this isn't much of a stretch. What
is
 a stretch is the thought of Robin Williams as Dwight D. Eisenhower, as reported by
THR
, though it's nice to see the comedian back to pursuing more dramatic roles. The cast also includes Forest Whitaker as Allen, Oprah Winfrey, Alan Rickman, John Cusack (another "The Paperboy" alum), and Liam Neeson.
For what it's worth, the risk of this being yet another star-studded flop seems somewhat mitigated by the involvement of co-writer Danny Strong, whose teleplays for "Recount" and "Game Change" were both astute political affairs. Here's hoping that Strong may balance out Daniels' more melodramatic tendencies this time out.