International 'Prometheus' Trailer Reveals New Secrets
Namely, that the film is more complicated, if still 'Alien' related, than previously thought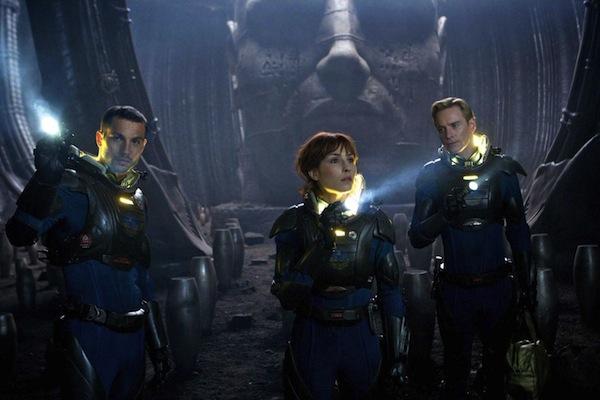 Beyond this weekend's "The Avengers," July's "The Dark Knight Rises," or August's "Diary of a Wimpy Kid: Dog Days," the summer movie we're most looking forward to is definitely Ridley Scott's "Prometheus." An ostensibly
original—astonishing​ly,
not
a remake or sequel—sci-fi flick from the talented, Oscar-nominated creator of the "Alien" franchise? Starring Hitlist-fave Michael Fassbender? We're already waiting in line for tickets! (Um, by which we mean "lazily monitoring Fandango, waiting for them to come on sale.")
Fans have been eagerly devouring promotional material for the film ever since it was announced, so keen are they/we for any scraps of intelligence regarding Scott's return to his genre roots. Firm details have been few and far between, but the little we actually know has only made us more excited. Yes, space ships are involved, including one that may look ominously familiar to those who have seen the first two "Aliens" flicks. Yes, it involves robots and people co-habitating, wearing spacesuits with bubbles on their heads, and lots of running and screaming through darkly lit corridors. But what is it, really?
Fans may find some answers in the newly released international trailer. Which, at least, sets up the premise better than previous efforts, while giving us clearer looks at Charlize Theron, Noomi Rapace, Mr. Fassbender, and fellow cast member/ship Captain/eventual victim Idris Elba. Check out said trailer, posted after the break, and let us know what you think in the comments.

I saw this and I am so ready to see this.  I know I am mean, but one of my older sisters was pregnant when this movie came out so I like to call her and tell her I've seen this trailer and ask her when she is ready to see this.  She's scared.  I can't wait to see this.  I am soo ready for a good scare. 

WOW,
Could I be mistaken, but does Mr. Scott have no imagination???
Looks a tad like Aliens to me, perhaps some evolution took place and they are smarter, like Neanderthals vs. Homo Sapiens for those who are morons that's like
Gave Man vs. Humans Dude.......
I guess it's time perhaps to further the Adventure with new blood and a new plot with smarter Aliens and the same old Stupid Humans.
Are you sure you want to delete this comment?