UK's 'Secret Cinema' Series to Make Its Way to the US
Would you pay a premium for an elaborately staged experience built around a mystery movie?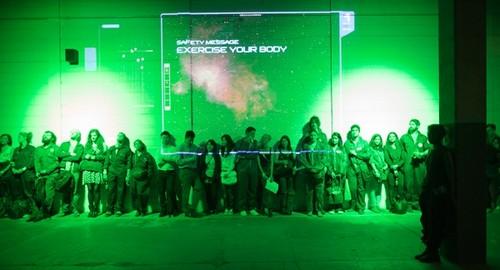 It's tough to see anything first-run today without spending a pretty penny. Setting aside the gimmicky additions of IMAX, 3-D, or D-Box, the price of a couple catching a new release on a Friday night -- or a family at a weekend matinee -- with concessions and such quickly adds up. So how much would you be willing to gamble on seeing a mystery movie?
New or old, you're don't know what you're going to see until you show up at a provided location, with instructions for appropriate attire, and find yourself escorted by staff acting in character through a set dressed to match the film in question. A group called Secret Cinema has found enough fans in the United Kingdom to carry on in such a way since 2007, and they really made their mark last month by playing "Prometheus" day-and-date with its theatrical release, complete with Ridley Scott intro, and ultimately accounting for more than 3% of
its UK box office
.
Now, according to
Time Magazine
, Secret Cinema is making strides to start up in the States. Events like these aren't entirely unheard of here; in Austin, TX, the Alamo Drafthouse and their merchandising arm have been hosting Mondo Mystery Movie screenings that involved busing attendees to a shopping mall filled with zombies for "Dawn of the Dead" last October.
But will New York film fans turn out to the tune of fifty-dollar tickets to see something that they may or may not have already seen? More to the point, Hitlisters: would you pay a premium for such an elaborate experience?