Interview: Director Rich Moore of 'Wreck-It Ralph'
'Whoever has the high score over me on the 'Fix-It Felix Jr.' game downstairs? He's OUT.'

In the halls of the Disney Animation Building in Burbank, a square grid of character sketches are arrayed on one of the walls -- a great hairy Muppet-like mammal in a porkpie hat, an albino white ape in a toga, a spike-handed smiling-disgruntled monstrosity and a tousle-haired behemoth in half-undone overalls, culminating in a fellow who looks like Channing Tatum with a Street Fighter avatar's haircut and Lil' Abner's wardrobe. They're the collected initial conceptual sketches of the title character in director Rich Moore's upcoming animated film "Wreck-It Ralph." After 30 years the bad guy of the Donkey-Kong Jr.-styled videogame Fix-It Felix Jr.,  Ralph, grows tired of his endless life of struggle, rage and constant defeat and travels to other videogame worlds in pursuit of a new fate.  This, of course, has ramifications -- leading Ralph's opponent, the not-a-bad-guy Felix Jr. (Jack McBrayer), unemployed by Ralph's leaving, to pursue him in his flight so that the game might play again. It's not a new idea -- Disney had two similar animation ideas, "High Score" and "Joe Jump," that it could never get the quarter into just right to start.  "Tron" and "Tron Legacy" tried, with varying degrees of success and decades apart, to show inside the game grid. 

At the same time, in the 25 minutes of footage we were shown during a lengthy group press tour of the Disney facilities meeting the crew of "Wreck-It Ralph," it was easy to be won over by the film's look and pop smarts.  Even better was the vocal work of John C. Reilly as Ralph, a workaday Sisyphus who just longs to be freed from what seems like fruitless work and also to appreciated for who he is. While a lengthier preview will be forthcoming, we at The Hitlist also had the chance to sit down with director Rob Moore in a one-to-one setting. Moore was with both "The Simpsons," and "Futurama" at their very beginnings, and was a Cal Arts graduate alongside Pixar and Disney Animation maestro John Lasseter.  If you've ever laughed at "The Simpsons"'s inspired musical parody "Marge vs. The Monorail," or the look and feel of the characters on "The Critic," that's Moore at work as a director or a designer. Like Ralph in the varied and various design sketches that hung in the hall, Moore's film had gone through many iterations -- but, all the while, moving towards one singular vision. It would have been easy to pelt Moore and ask him about the plot points and characters or of what happens in the sections of the film we didn't see; instead, I asked Moore about  how he's seen videogames change, his faves when he was growing up, about the challenges of  "Wreck-It Ralph" and how much love has gone into the hard labor of making this film.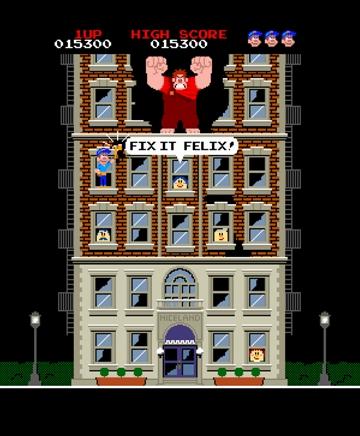 MSN Movies: Before we talk about the technology and the aesthetic and the joy of "Wreck-It Ralph," I may have put half of Uganda's GNP into "Joust" machines when I was 12…
Rob Moore: Same, I put the other half (in).
The ostrich, where you have to have your lance higher ....  I would suspect that you and I are roughly --  we were both alive for Ronald Reagan.
Right.
We both remember the difference between an Intellivision and an Odyssey 2.
Absolutely.
What was your go-to arcade game?
Well, let's see. There was a table-top Pac-Man that I was very, very in love with.
Did it have a different map outlay? -
No, it was just nice to sit. There was something about it that I was able to kind of operate it from a seated position better than standing. Or maybe the difficulty was turned down or something. But it was in a pizza place near my high school -- Oxnard High -- and after school it's like we would go there every afternoon, and I developed "Pac-Man Elbow" from that Pac-Man.
Also Pac-Man fever?
Yup, yup. So that's sad that I was sitting and developing Pac-Man -- a 17 year old kid -- developing "Pac-Man Elbow" at a pizza place.
That's not that bad …
And also, I'll tell you another one that I put a lot of money into -- Dragon's Lair. You remember that?
Yes, with the laser discs.
Laser discs built into the machine…
And all the animation by Don Bluth.
Don Bluth… I funded, I think, his next one, Space Ace. That one was like a monkey on my back.
Early on in DVD, they came out with a DVD version of Dragon's Lair that you could play with your remote on a long, futile afternoon.
(Laughs). It was not as fun as with the stick.
Playing Dragon's Lair with a DVD remote is like…
It's a whole new level of sad.
…trying to make butter with a fork. Theoretically, sure.
(Laughs).
So ... John Lasseter contacts you and goes, "Hey, we've known each other for a while. You've done great work on 'The Simpsons,' you've done great work on 'Futurama.' I'm really interested in having you make a jump to features, and I'm interested in you making it here. We have this property that 2 other directors could not possibly crack. Would you like to look at it?"
Sure!
No, well, how do you turn being handed what like a dog's breakfast of "Here's all the stuff other people couldn't make work, but you get on it, fancy lad!"
(Laughs).
Do  you just…
Well, it wasn't really so much laid out like that. It was kind of, we have things around here, because John likes to hear lots of different pitches, you know, at least 3 different ideas in that pitch session to him. And it was just kind of thrown out there that "We wanted to do something about video games here, do you think you would be interested in that?" And it's like and since you know the background, you know how it gets under your skin, that I never thought of it as something that "Argh, here's something that 2 other directors tried to kind of kick around and couldn't do it," you know? It seemed more like -- and I didn't even really go to the material that they produced in doing it -- I just kind of took it as like…
You just said, "Okay, they tried to make a movie inside a video game -- now it's my turn to try."
… my turn to try. And I don't want to really know what they -- what the story was about or what the characters were and, you know. I'm just going to approach it as world with video game characters or a story with video game characters.  Well, what would be interesting about that? And so it was never kind of like, "Here's the script, here's the…" It was only presented to me as that much of an idea.  Like that sort of world where it takes place, now go! And of course that's the one that John picked.
There's a whole great line in the trailer about where Ralph at one point, trapped in a first-person shooter, screams, "When did video games get so violent and scary?" Is that  part of a fun, lovingly critiquing a medium while you're depicting it?
A little bit. Because there was a point where, I can't remember what game I was playing, I think it was Saint's Row or one of the Grand Theft Auto games where I thought, "This is way different from Pong. This has come a long way." But then I remembered one that I did play in the early days called Death Race 2000, if you remember that one, it was driving a little car around running over pedestrians, and that was pretty violent. So I've got to say…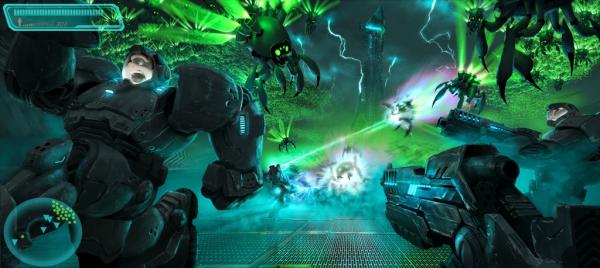 You feel like the resolution level has increased, maybe, more than violence level?
Yes, a little bit. Maybe, intensity level.
Well, people always say video games are responsible for violent behavior, but I don't see anybody being attacked by barrels.
Absolutely not. No one's throwing barrels on top of people.
How important…
That's a good line…
What?
I'm going to remember that -- with the barrels. (Laughs).
How fortunate is it that this fits in with the kind of Pixar sub-theme of the hidden life of X? Like when you put the toys away, they have a social life and an animate life that we're not aware of. When you turn off a video game, all your characters are off work; is that just coincidental or is it just too good a storytelling device to not use?
I think that at first we thought, "Well, can we tell it a different way where people don't really -- that it's not about the secret lives of them?" We explored a few different ways, but it seemed like that was the strongest kind of conceit to run with -- that this is what they do when we're not watching them.  And it's not so much we don't spend time, but the characters aren't  saying, "Don't let them see us not doing…" It's just kind of their lives; it's just kind of how it is for them. That they're not trying to quickly get back in the spot when they're not being played. It's…
It's more of a 9 to 5, trudge in, trudge out of the office thing.
Yes, that's their job. It's like, "I've got to get to work." It's that type of thing. It's clocking in and then going about their lives when they're not being played.
 I'm going to give you a backhanded compliment…
(Laughs). Okay, that's my favorite kind.
... slightly knocking another Disney property, which is that in "Wreck-It Ralph," the trailer alone suggested a better understanding of the symbolism and nature of video games than all of "Tron Legacy."
(Laughs).
First of all, it's probably not hard…
Ouch.
Second of all, when "Tron Legacy" didn't do as well as it was hoped to have done, was there any secondary rippling of fear about, "Oh my God, video games are box office poison"?
No, I never felt that. For maybe a minute like, "Ooh, what if 'Tron Legacy' doesn't do well?" But there was never a moment where someone said, "We're not going to do this movie. People don't want to see video games in movies." Because I think, I never really thought -- you know "Tron," I never thought of it as like a story about video game characters. I guess they were playing games, but to me it was always just kind of like what it was like to live in a computer.
Right.
I never really -- it was never about -- to me, this is more about the actual game characters and what life is like for them. I never, even the original "Tron," I never thought, "Oh! This is about games!" I always thought it was about living on a grid or something. I mean, I loved it, it was terrific, but I never thought, "Oh! This is about the games that I play in an arcade."
One final question, they do have downstairs a Fix-It Felix Jr. game. I'm sure there'll be some variations …

Do you need some quarters? Do you need change?
Do you get an even halfway decent score?
I've worked my way up to about -- my high score on it was 16,200 points.
16,200…
Pretty good. Now the high score on one of the machines, MJG, is 155,000. You know, so…
As director, you get to fire that guy, don't you?
Yeah, he's out.
He's gone.
I'm going to find whoever MJG is, and he's out.
("Wreck-It Ralph" is coming to Theaters in November. )
Are you sure you want to delete this comment?