Interview: Reese Witherspoon, Chris Pine & Tom Hardy of 'This Means War'
Action, comedy, romance, bromance.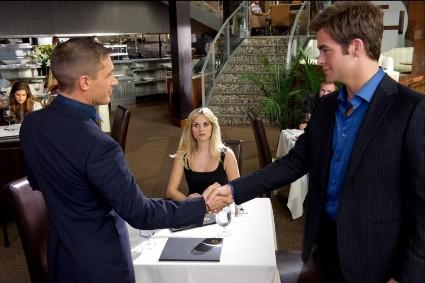 In the McG-directed romantic action-comedy "This Means War," Reese Witherspoon meets two great guys and can't figure out which to  date seriously --- of course, this being the movies, not only do the two men (Chris Pine and Tom hardy)  know each other, but are CIA men who set out to make Witherspoon's heart the ultimate covert action objective. We spoke with Hardy, Pine and Witherspoon about a variety of things in L.A., all of which descended into loud, uncontrolled giggles on Hardy's part.

MSN Movies: Which is tougher -- physical action or physical comedy?
Pine: I'd vote physical comedy.
Because the timing is trickier?
Pine: Yeah, I just think it's hard, because comedy is all about comfort. I think when you watch those great Judd Apatow movies, I think what really comes across is you can tell they're all very comfortable playing off of one another. To create that atmosphere on set, I think is very important. If you don't have that I think it can be tricky.
But Ms. Witherspoon when you're in the film's action finale, was that like, "Yay, I get to run. I get to look frightened. I get to be in a fast car?" Were you regretting that you didn't get to throw a punch?
Witherspoon: Yeah, it was a great opportunity to try and be in action movie, although I didn't get to do a lot of the action sequences. I get to really enjoy getting chased by the bad guys, which is sort of a unique experience for me.
Now are you laughing at the idea of looking frightened because you were actually frightened when it was all going on?
Witherspoon: No, it's just hard for me to imagine being in any kind of action situation. But it was fun for me, and I feel like the movie is very fresh and is a great sort of take on comedy and action.
Are you prepared for the karmic consequences of every film-going-woman in North America looking at the poster for this and mentally photoshopping themselves over your face to imagine being between your two leading men?
Witherspoon: (Laughing) I'm just creating an opportunity for these to gentlemen to be in this film, and I'm just creating opportunities for women to be coming and watching these incredible guys woo after this woman.
Mr. Hardy, so far we've seen you in "Tinker Tailor Soldier Spy" as an English member of the secret service. …
Hardy: I am English. 
In this film you're a member of the CIA. Is your next film going to be "Undercover Mountie?" Are you just going to go through all the English nations' intelligence services?
Pine: I've seen the preview for it. It looks phenomenal.
Hardy: For the undercover Mountie, with the beard, and the salmon in my pockets, and the bear skin gloves?
But on a more serious note, for Mr. Hardy and Mr. Pine, is playing a spy like one of those big inner twelve-year-old high-five moments?
Hardy: Yeah.
Pine: Huge. Yes, one hundred percent. You get to play with guns and have someone teach you how to do all the fun tricks, and take out a bunch of bad guys, and make it look real. It's a lot of fun.
Ms. Witherspoon, your character is the head of research for a consumer advice magazine. Is that you or are you an impulse shopper? Do you make the list of "We have to find the best one with the best energy rating, the best ecological footprint?"
Witherspoon: No, I guess I'm probably not a very discerning shopper, but I think it created a great sort of comedic device for this woman to be very decisive at work and very indecisive in her love life.
Right, the idea that if she did make a PowerPoint chart comparing the two gentlemen she'd be fine?
Witherspoon: If only life were that easy.
If only life were that easy. What for you was the most fun day? What for you was the most enjoyable sequence of things to shoot for each of you?
Pine: I think watching it. The most fun I had watching it is it's just a split tie between the trapeze scene and the paintball scene. The inner romantic in me is like, "I want to have a slow motion trapeze moment, with flickering lights, and wear tights and that whole thing too." Also the paintball scene, I thought, was very funny.
Yeah, the trapeze scene is a nickel away from being a Meatloaf video.
(For some reason, this strikes Hardy as hilarious).
Ms. Witherspoon, your favorite day on set?
Witherspoon: I really enjoyed all the stuff with Chelsea Handler. She always made me laugh.
And Mr. Hardy is just having too good of a time, so we won't even need the answer.
Hardy: Leave me alone. Leave me here. Take your careers and move on. 
("This Means War" is in theaters.)