FEATURED POST
San Diego will be getting just a bit hotter...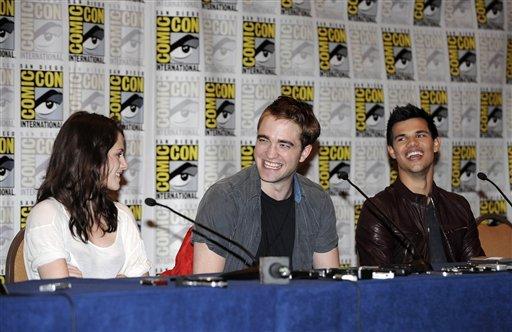 MTV
has made it official:  Summit Entertainment confirmed that The Big Three--Robert Pattinson, Kristen Stewart, and Taylor Lautner--will be in attendance at the 2012 Comic-Con in San Diego.
The "Breaking Dawn, Part 2" panel will be at Hall H as usual, on Thursday, July 12, from 12:45-1:45pm.  According to
Comic-Con
:
Summit Entertainment presents a sneak peek at the highly anticipated conclusion of The Twilight Saga films. This is a must-see for fans interested in the story's final chapter. You will be shown exclusive footage from The Twilight Saga: Breaking Dawn-Part 2 and be treated to a cast and filmmaker Q&A session providing details on the epic finale.

Hopefully San Diego does not suffer a heat wave that week, with all the fans already camped out. Check out this photo by TwiFans: