Robert Pattinson Says Nobody Would Care About Him Without 'Twilight'
Would he still be "just" Cedric Diggory to movie fans?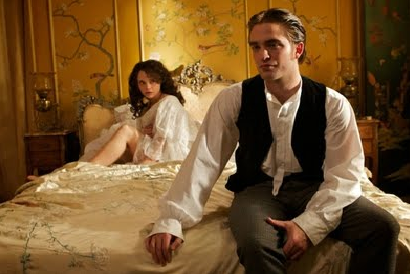 Robert Pattinson goes from modern-day virgin vampire in 'Twilight' to 19th century manho in his upcoming film,
'Bel Ami.'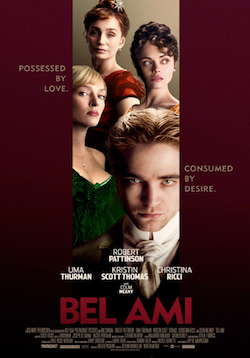 Co-starring
Uma Thurman
,
Christina Ricci
, and
Kristin Scott Thomas
, the film is an adaptation of Guy de Maupassant's 1885 novel, chronicling the rise of Georges Duroy (Pattinson) from a poor soldier to one of Paris' most powerful men, leaving a trail of used and manipulated women in his wake.
Georges is definitely
not
Edward.
Pattinson spoke to The Herald Scotland about this interesting transition:
Given the contrast between the caddish Duroy and Pattinson's chivalrous Twilight character, Edward Cullen, it's tempting to think that the actor has selected Bel Ami as a conscious bid to show his range, to prove that there's more to his make-up than a fiendish pout and excellent hair.

"Doing something like Twilight opens doors and it closes others. You can say, 'Oh if I was still unknown, then no-one would judge me,' but at the same time, nobody would give a s*** either." He laughs. "It's a weird little balance. And, most of the time, you are just completely guessing what people do, so I suppose doing scripts that you think are good is the way to go. And that's what I thought about Bel Ami.

'With Bel Ami, though, I guess there is something quite fun about going from Edward Cullen to playing a guy who pretty much abuses women to get money out of them.

"Edward so wouldn't approve! So, yes, I thought that was a funny irony. But the story, independently, is great, and I only thought about the irony afterwards. The thing that stands out in the story in Bel Ami is just his behaviour —the women that he manages to screw over are all attracted to him to begin with and so he starts having affairs with them and destroys their lives afterwards. That's kind of nuts. But, to answer your question, I don't think about doing things just because they are different from Twilight, no. Honestly, Bel Ami was just such an intriguing film."

See the entire piece at
The Herald Scotland
.
In the meantime, check out the 'Bel Ami' trailer:
Your thoughts on Pattinson's new role?  Are you just fiendishly dying to see him play such a character (as well as...uh...see him in all those bedroom scenes)?  Sound off in the Comments.
Source:  @RPLife for the posters