Catherine Hardwicke Thanks Fans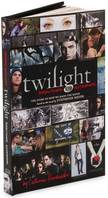 Twilight
director Catherine Hardwicke has a nice little video to thank all the Twifans who bought her book,
Twilight: Director's Notebook: The Story of How We Made the Movie Based on the Novel by Stephenie Meyer
. Have you guys seen it? At first I was a little skeptical, thinking, "What could possibly be in this book that would be of interest? Is she just trying to squeeze some money out of fans?"
But once I got a hold of it, I had a quick change of heart. The book is a testament to Hardwicke's artistic, quirky, and imaginative mind--it's full of handwritten notes and tidbits, sketches, watercolors, and anecdotes. If you love the process of movie-making the way I do (if you watch all the Bonus Features on a DVD, then you DO!), I'd say you'd enjoy this director's insights into the making of
Twilight
.
A few favorite bits:
The "before" and "after" shots of various Twilight locations--the Cullen house, Charlie's house, Forks HS.
A few pages with details about the soundtrack selections.
The original idea for Edward's hair was a long, "timeless" style. They tried it on Rob Pattinson using extensions and he hated it. Whew! Otherwise he would have looked like an 80s hair band reject. I like the Simon le Bon bouffant much better.
The painted sketches of the characters' "looks" and the bits about their costumes.