"Twilight" Oopsies
Movie Mistakes
has an exhaustive list of goofs and bloopers in
Twilight
. I've watched the movie umpteen times, and I guess I'm not looking for mistakes, so I haven't seen any (I'm too dang distracted by the bronze-haired jailbait).
Here are a couple of "continuity" mistakes they've listed:
"In the first segment of the scene where Edward tells Bella that he was changed first, then Esme, it's raining and they are wet. After the cut scene showing Carlisle changing Esme, it's no longer raining and Edward and Bella are dry."
"In the baseball scene, Rosalie slides into home and her pants are dirty. On the next time she's up to bat, her pants are clean."
And here's a pic showing the mistake regarding Edward's unbuttoned/buttoned epaulet: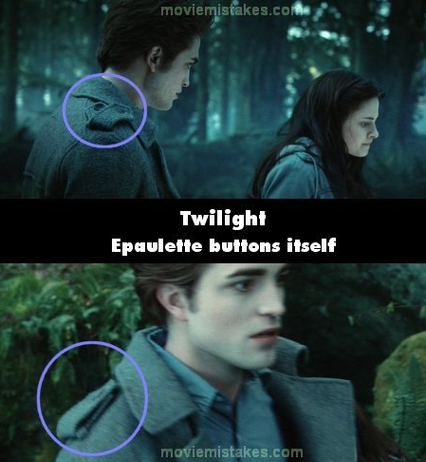 See the list
here
and the photos
here
.