My Review of 'Snow White and The Huntsman'
Worth seeing now, but it won't be a classic.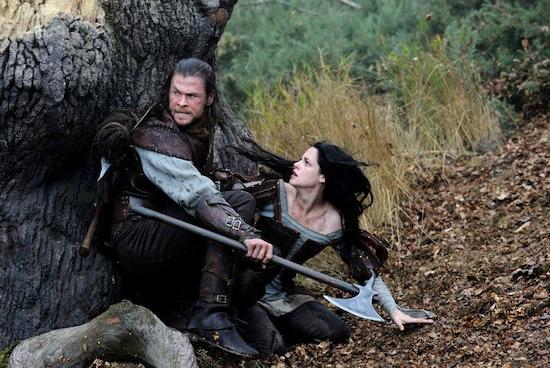 Attended the Seattle press screening for
'Snow White and The Huntsman'
this past Tuesday night, and with the audience comprised of half press and half radio station winners, it made for an interesting mix of reactions.
Let me preface my review this way:
If you are a rabid Kristen Stewart fan and believe she can do no wrong, you will love the film.
If you have not seen many films in the fantasy genre during the past two decades, you will enjoy the film.
If you are a big fantasy film fan, you will be disappointed.
Here's the Good:
It's a fairly entertaining movie, with incredible scenery and special effects, fantastical creatures and visuals, and enough battles, chases, and action to keep the pacing just right.
Charlize Theron's
Queen Ravenna is indeed the foulest crowned head you've encountered in some time.  Her unnatural relationship with her brother is creepy and uncomfortable.  She eats raw bird hearts, sucks the life out of young maidens, and wants Snow White's heart.  She is evil through and through, whether she is quietly making plans or screeching mercilessly at her minions.  Plus, she sports amazing smokey eyes in every scene.
Kristen Stewart
as Snow White is convincing enough, although I would not say this role allowed her to flex much acting muscle.  Her transformation from imprisoned waif to warrior princess, however, is a nice change from the old fairy tale, because she actually uses her own skills and bravado to rescue her kingdom, instead of waiting for a prince to do all the work.  Besides the name, this Snow White has almost no similarities to the Disney one--be glad.
Chris Hemsworth
as the Huntsman gives the best bit of acting in the entire film, during his sad lament to a presumably-dead Snow White.  He goes from a drunken boor to an uncertain rescuer to a heroic fighter, and is certainly more likable than he was in
'Thor.'
The dwarves, who don't show up until almost halfway through the film, provide the expected but very welcome comic relief.  At this point the movie has slowed down and gone very dark, so when the Huntsman groans, "Oh no...dwarves," the film experiences a little spike in energy and humor. These are real dwarves, though, with more interesting names and personalities than their Disney predecessors.
And the Not-So-Good: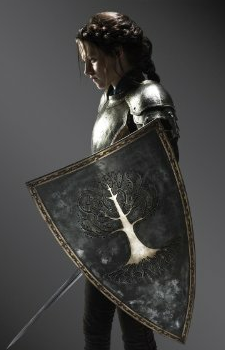 The art direction, sets, costumes, and cinematography are all spot-on; the problem is that you may feel a sense of déjà vu because so many of the film's elements seem borrowed.  I cannot help wonder if the art director and cinematographer are big
'Lord of the Rings'
trilogy fans, who somehow have those films' environments unconsciously embedded in their minds.
When Snow White (Stewart) escapes the castle, she survives a jump into the violent surf and safely gets to shore, where a gentle white horse just happens to be laying, as if it had been waiting 12 years for her to finally turn up.  The audience has a good laugh at this -- a few even shouted "Shadowfax!" (the horse lord from 'Lord of the Rings').  Her emergence from the water and slow ascent onto the horse are reminiscent of Aragorn mounting Brego after his fall off the cliff into the river.
Other elements and imagery that are right out of director 
Peter Jackson's
 fine opus:  Snow White riding swiftly on the white steed through the forest, while several black-clad riders on black horses give chase; Queen Ravenna's (Theron) constable of ravens; the 
landscape-rich scenes where Snow White, the Huntsman, and the dwarves are making their way to the duke's castle; the silhouette of a tree with curled branches on Snow White's shield; the dead tree in front of the castle blooming a sole blossom on a branch after Snow White's rightful coronation.  I would feel safe in saying that a secondary viewing would probably yield even more.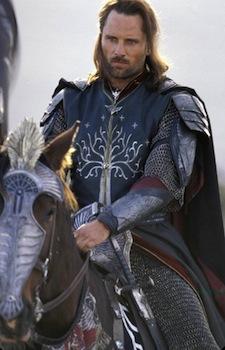 Which is why I stated earlier that if you are not a fantasy film buff, you'd enjoy 'Snow White and the Huntsman' more, since you wouldn't have those "I think I've seen this somewhere before" nudges rattling around in your brain.
One last unfortunate scene which I must mention is when Snow White is lost in the Dark Forest, night is falling, and as her exhaustion and fear take over, she lies down on the forest floor and curls up into a fetal position. 'Twilight' fans, you must admit this is just too similar to the scene in 'New Moon' when Bella lies down in the woods after Edward abandons her.
Summary:

3 stars.
Despite its shortcomings, it has enough entertainment value to make it a worthwhile see, and I think most theatergoers will find it a good start-of-summer blockbuster, with its escapist visuals and its satisfying Good vs. Evil plot.  There is no nudity and no sexual themes, but the plot and violence are enough reason to keep elementary school-aged kids out.