Watch Two New 'Cosmopolis' Trailers
You May Agree That This Film Could Be A Career-Changer for Pattinson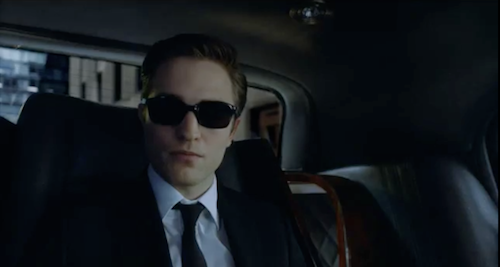 Watch the new 'Cosmopolis' trailers, and you may be asking yourself, "Edward who?!"
Robert Pattinson's role as Eric Packer in this screen adaptation of Don DeLillo's 2003 novel is not only heading to the Cannes Film Festival, it's also gaining momentum from all the positive reviews.
A few:
Seems like David Cronenberg is back to doing what he does best - creating sublimely weird nightmares and slipping them into the arena of mainstream cinema. It also looks like a peach of a role for Pattinson, who's set to shake off his tween pin-up credentials as the film's increasingly deranged protagonist.
- Total Film
This trailer expands on the mind-bending bits found in the first, with a great look at what will certainly be Pattinson's meatiest role yet. I love the imagery Cronenberg is playing with, as it looks to be something straight out of one of his 80s/early 90s classics.
- The Film Stage
Well, actually, it just looks f*cking awesome. If you're a fan of Cronenberg's work then these two trailers should get you jazzed. I've missed his surreal style for a while now and I'm genuinely excited to see this. The cast looks great, even Pattinson, who carries a stigma from the TWILIGHT franchise with him. However, the more work like this that he does, then the easier it will be to forget his diamond-sparkle, fangless vampire role.
- JoBlo
There's a good reason Robert Pattinson's upcoming film "Cosmopolis" won the MTV Movie Brawl earlier this year: it looks freaking awesome.
Hot off the news that the flick will be making its premiere at Cannes this year, the folks behind the movie released two new trailers that give us a good idea of what we can expect when David Cronenberg's latest hits theaters. In true Cronenberg fashion, "Cosmopolis" looks like it will be dark, surreal and all around fantastic.
It also is Pattinson's first chance to really flex his acting muscles in something that's not a romantic film, a genre that he's been somewhat pigeonholed in ever since "Twilight" first came out. Between this and "Bel Ami" being released this year, we're looking forward to seeing a side of the 25-year-old actor that we've never seen before.
- MTV
I mean, being plucked from the Harry Potter supporting wings and the odd pre-fame arthouse pic for eternal teen vampire glory aside, signing on for David Cronenberg's Cosmopolis looks more and more like the best decision Robert Pattinson has ever made.


But the new Cosmopolis trailer and Cannes announcement achieves something no mainstream romantic vehicle could do for Pattinson: It suggests to the uninitiated that there's something more to him than teen idol fare.
- Movieline
Check out these trailers, and see if you agree with the critics above.  Will Pattinson eventually shed the sparkles of Edward Cullen, and become an actor Hollywood will take seriously?  If he keeps working with people like David Cronenberg, and taking on roles that are unexpected and challenging, he very well may.
Source:  RPLife

Well, I don't know what's taken those review folks such a long time to understand that I saw in the beginning this guy is NO flash in the Pan, Very Deep and unseen talent, he's moving faster up to Oscar time than anything since the Golden Age of Hollywood. I think and having worked there and in the music industry, I believe he's got what it takes too handle all the fame too, it won't "change" him and you won't see rehab groups in this guys future, you'll just keep seeing talent growth, and more amazing films. The writers and producers finally have somebody able and worthy to do their projects, no unemployment for Pattison trust me. He's a great chap!
Are you sure you want to delete this comment?