Kristen Stewart and Jennifer Lawrence Competing For The Same Film Role
Who will get it?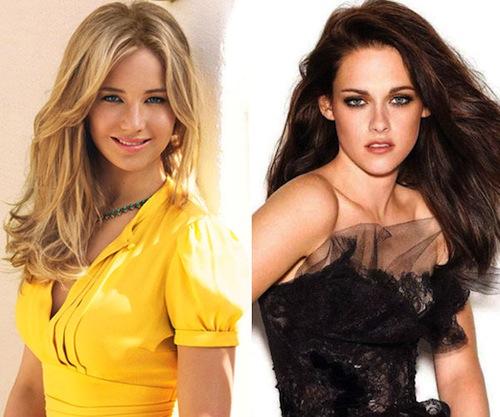 According to the
NY Post
, Kristen Stewart, still riding the 'Twilight' wave, and Jennifer Lawrence, fresh off the huge success of 'The Hunger Games,' are vying for the same role in an upcoming movie adaptation of
William Styron's "Lie Down in Darkness"
:
The women are aggressively jockeying for the role of Peyton Loftis in an adaptation of William Styron's edgy first novel, "Lie Down in Darkness."


"It is very unusual for two actresses to be so vocal in lobbying for a role," a source tells us, "and even more unusual that they are the two hottest young actresses of the moment."


"Darkness" follows a psychologically vulnerable young woman who's preyed upon by her father in 1950s Virginia. "Crazy Heart" wunderkind Scott Cooper is directing the movie, which won't begin production till next year because Cooper is currently busy with Christian Bale and Zoe Saldana in a thriller, "Out of the Furnace."
Sounds like an Oscar-caliber role to me.  Their "sources" seem to think likewise, as the two actresses have not been shy about publicly going for it:
"I want to play Peyton more than anything I can possibly taste or touch in my life. I want to play her so bad," Stewart says in the June issue of Elle magazine. "They're the most [bleeped]-up family. There's a script adaptation . . . and it's good. Two people vying for the part [of the father] are Daniel Day-Lewis and Colin Firth. Daniel would be perfect."

Lawrence, meanwhile, told W, "I am obsessed with that part. I have this feeling of protectiveness over characters I want to play . . . If someone else gets the part, I'm afraid they won't do it right. I'm trying to write the director . . . to convince him that I should be in his movie. I'll chase him if I have to. I'll sit outside his house."


A source said the actresses' agents have been taken aback by their dramatic public plays for the role. But, "It's an independent movie, and they see it as a career-making role, like Meryl Streep in 'Sophie's Choice,' " the source added.
Which actress has the chops to take on this film and work with someone on the level of Day-Lewis or Firth?  Add your thoughts in the Comments.
Are you sure you want to delete this comment?