Twilight DVD Sales Hits 6 Million in the U.S.
According to
The Numbers
,
Twilight
D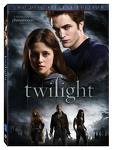 VD sales hit 6,027,815 in the U.S. the week ending 29 March 2009, putting it in the number 1 spot. That translates to $108,319,836 in sales, in its first week alone. I'm sure it will more than double that once the rest of the world has its
Twilight
DVD release.
The Numbers
also reports that so far,
Twilight
is the number 1 selling DVD of 2009.
Congrats to Summit Entertainment and the
Twilight
gang!