Add Bella Cullen to Your Barbie Collection
Now with golden-eyed, better-dressed Bella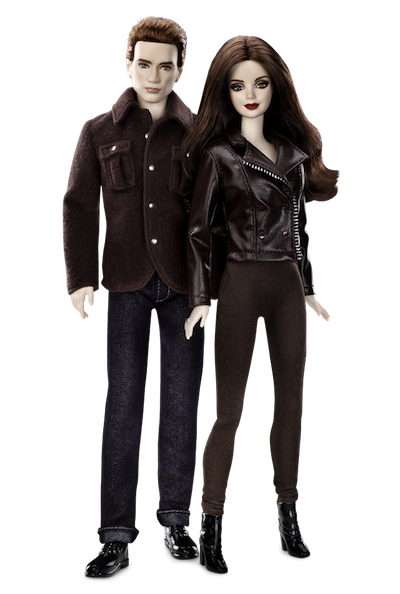 The Edward and Bella giftset (above) comes with a shellac-haired Edward and a vampier, golden-eyed Bella.  The
Barbie Collector
site gives more detail:
Every moment has led to this! In the Twilight Saga: Breaking Dawn—Part 2, Bella has overcome every obstacle and made the ultimate sacrifice to be with her true love. This giftset features Bella, now changed into a vampire, in a "leather" jacket and leggings, her hair long and flowing, with distinctive vampire eyes and glittery skin. Her one and only, Edward, wears a button-up shirt and jeans. The epic movie journey may be over, but the memories will never die!
The other dolls in the 'Breaking Dawn, Part 2' collection, all sold separately, are Emmett, Jasper, Rosalie, Esme, Carlisle, and Bella.
Will you be getting these in your stocking this year?
Source:  Twilight Lexicon