Summit Says "Full Steam Ahead" for 'Breaking Dawn, Part 2"
Promotion of the film will go as planned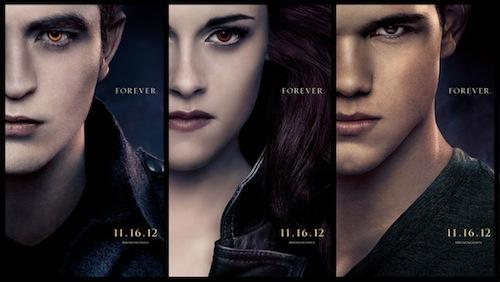 Summit Entertainment has issued an exclusive statement to
Entertainment Weekly
regarding the scandalous events of the past week and the studio's plans for 'Breaking Dawn, Part 2,' which opens November 16.
Nancy Kirkpatrick, Summit's president of worldwide marketing, says:
"While it is studio policy not to comment on the personal lives of actors, Summit is moving full steam ahead and looking forward to this November's opening of The Twilight Saga: Breaking Dawn – Part 2.  We are confident that the film delivers amazing entertainment for our passionate fans and general audience alike."
No specifics were given, of course, about the promotional blitz that usually precedes a 'Twilight' film premiere.  Until Robert Pattinson and Kristen Stewart have worked out their situation, I doubt the studio can really say how the world premieres, television appearances, 'Twilight' convention appearances, and red carpets will go.

This makes it sound like Summit is leaving it up to R/K to figure out what to do. How can they not know it would be for the best for them to not to be in the same place.  Don't the promos start about two months from now?  Things will probably be still be sad/unfortable for them.  They don't get paid by the promo do they? Just do everything separate Summit, you'll be glad you did.

I think by the time the promos start Robert and Kristen will have worked something out.  But whether they are together or not they still have a job to do.  If they aren't together then things will seem awkward to say the least.  But if Robert decides he can forgive her then everybody will be watching for some sign that something is wrong.  They're in a no win situation here.  You already go people saying this is a publicity stunt.  And the truth is the only people that really know whats going on are Robert and Kristen.  I just hope no matter what happens the interviewers stay out of their personal lives and stick to the Breaking Dawn stuff.  And doesn't anyone else think its crazy that the press has covered this story more than they covered the movie theater shooting.  Insane! 
Are you sure you want to delete this comment?