Tragedy at Comic-Con: 'Twilight' Fan Hit By Car
Woman dies rushing to line up for the 'Breaking Dawn' panel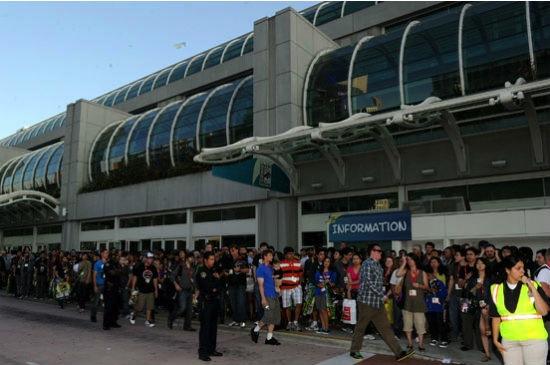 A terrible tragedy occurred today at the San Diego Comic-Con, when a 53-year-old woman was struck by a car as she rushed to line up for the 'Breaking Dawn' panel that takes place on Thursday.  She was taken to a local hospital and later pronounced dead.
According to San Diego's 10News, the woman was apparently crossing against the light:
"Apparently the pedestrian, as she went [along] the crosswalk, stumbled and fell and struck the vehicle as it passed by her," San Diego Police Department Sergeant Ron Glass told 10News.
Reporter Melissa Molina, who is covering Comic-Con for the site ScreenCrush, was not a direct witness to the accident, but did write on Twitter that the woman was apparently running "to get her place in line after they moved it to the tents."
Lionsgate and Summit have issued a statement regarding this sad turn of events:
"Lionsgate, Summit and the entire Twilight community are saddened by the death of a Comic-Con fan today due to a traffic accident during the hours leading up to this year's convention in San Diego.  Our thoughts and condolences go out to the victim's family and friends.  She will be respectfully remembered this Thursday in Hall H."
Comic-Con begins on Thursday, July 12.
The incident took place at Fifth and Harbor.  Ambulances arrived and found the victim with head trauma and bleeding.  She died at the hospital.  The victim's name was

Gisela G

, and her Twitter handle was

@Mad4Hugh

.  She was 53 years old, and the driver was a 67-year-old male.




There is a

fundraiser

to help her family with the funeral expenses.




According to a fan on the scene:  "Security decided we had to move once again and told us it would be an hour before we would do so. She went with friends across the street thinking there would be plenty of time before they had to return. Security then came back and told everyone they had decided to move us in 20 minutes. They were rushing back to the line to gather their things to move. I received info from someone who went with her to the hospital that they were rushing across the street, the car turned in front of her, she made eye contact with the driver, she tried to stop to avoid the car, stumbled and fell hitting her head on the pavement."
Here is Gisele G (in green shirt), camping out with her friends at Comic-Con.  



Such a sad story, and definitely one that has affected the fandom.